B U I J / G R O E N E W O U D - S C U L P T U R E S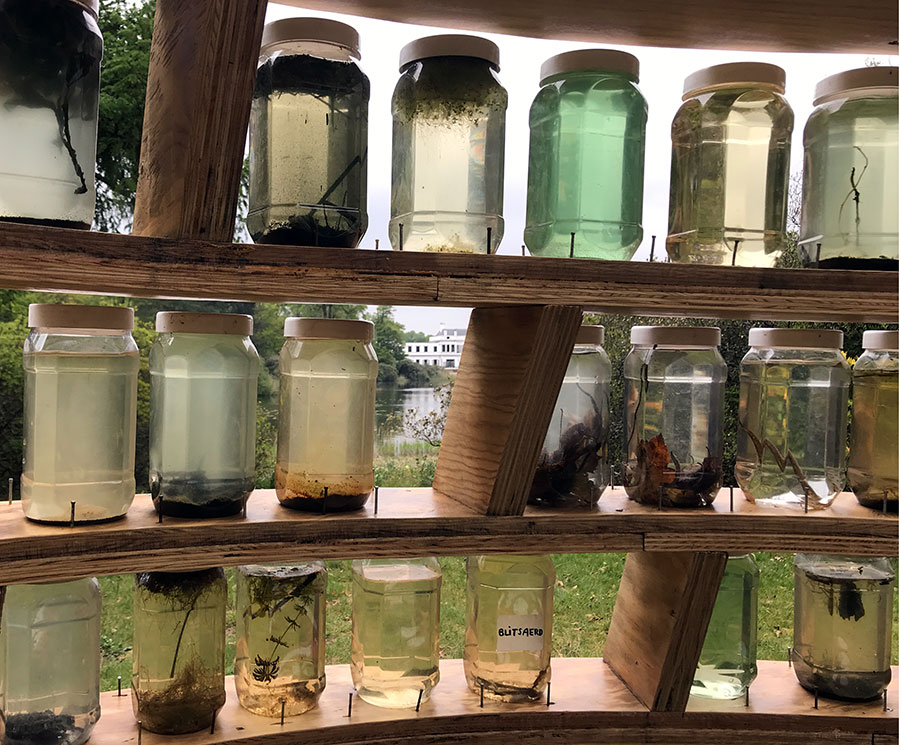 'Borboros' installed in the park of Soestdijk Palace - mei 2022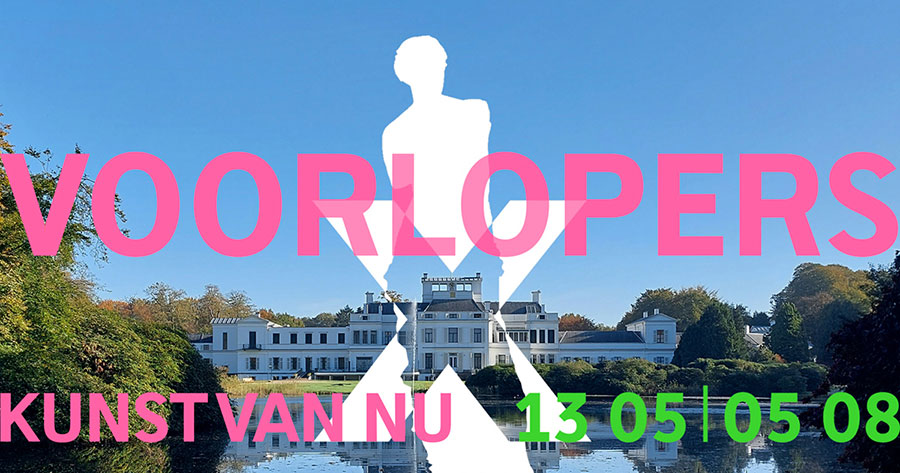 Poster of the exhibition at Soestdijk Palace this summer: Voorlopers (Pioneers)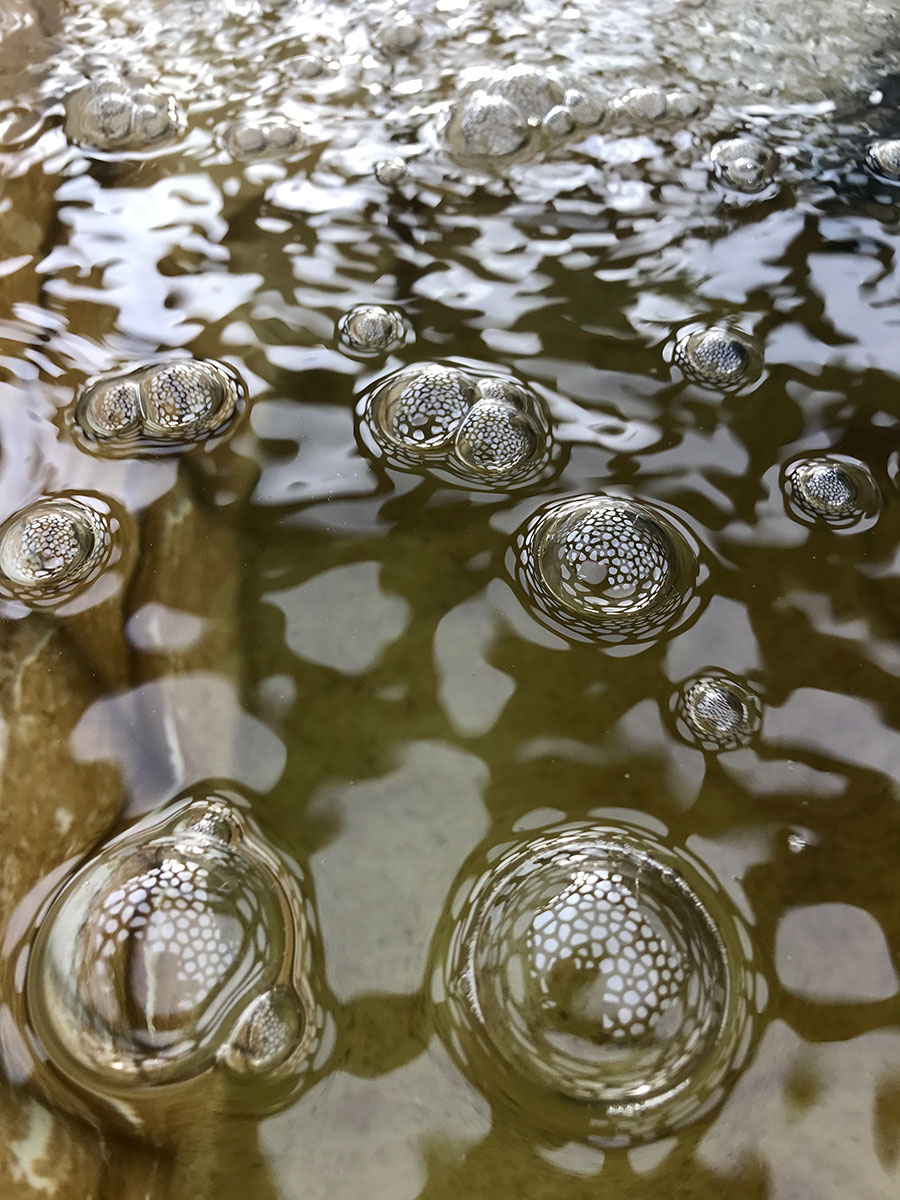 The new startup in the WaterBar, cultivating shrimps and plants for aquaria, also unintentionally generates miniature variations of their housing in producing bubbles for oxygen - september 2021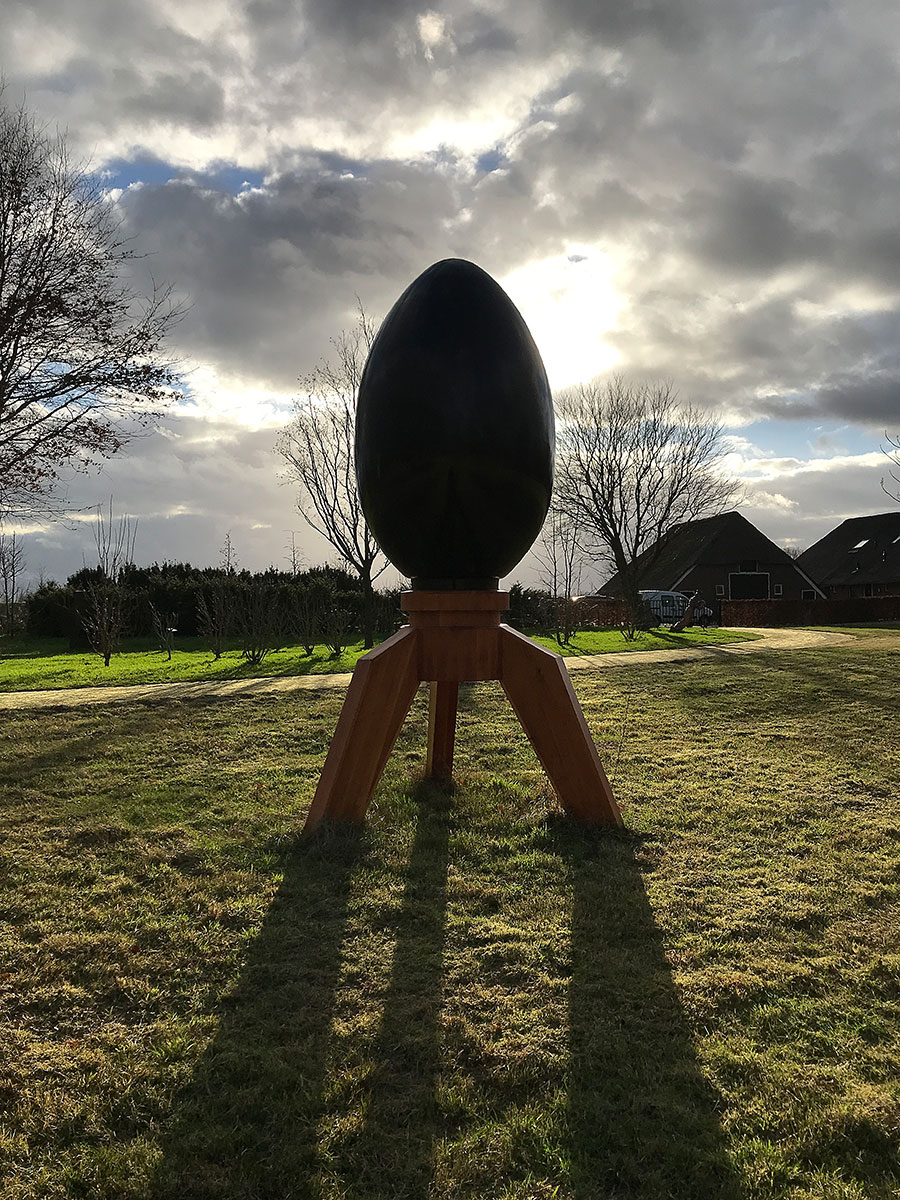 'Undefutor' at the Anningahof Sculpture Park in Zwolle - june 2021.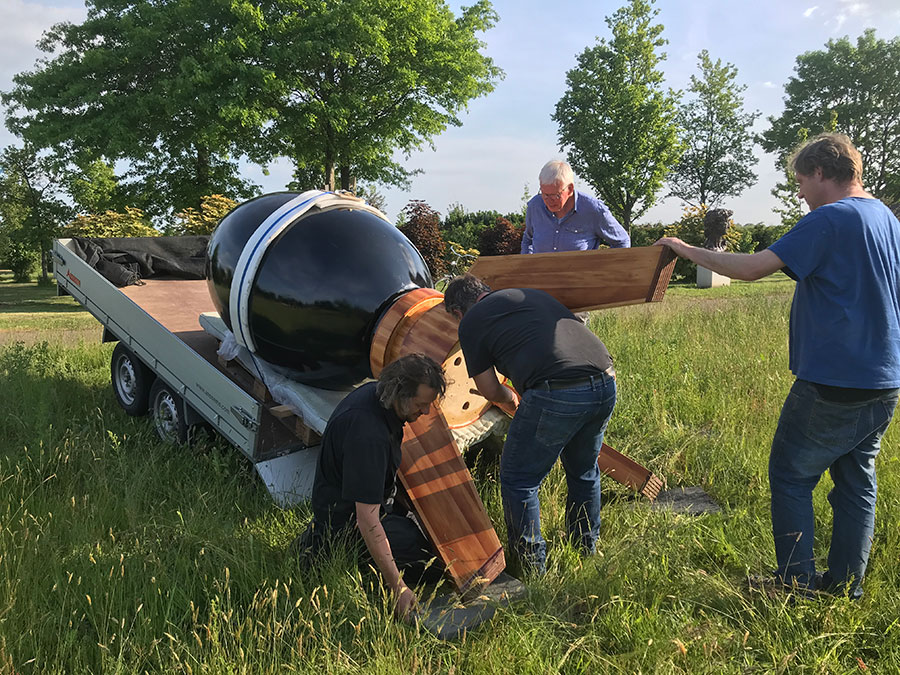 With a little help...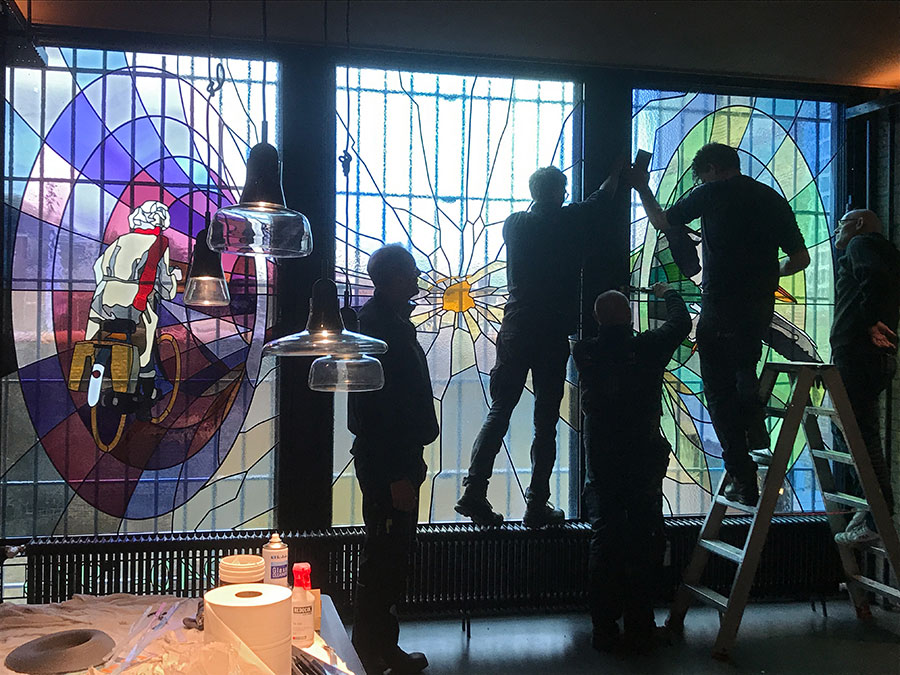 Stained glass panels designed for Stichting Friesland 1940-1945, being placed in the monumental former prison Blokhuispoort in Leeuwarden, where Frisian resistance in 1944 liberated 51 prisoners.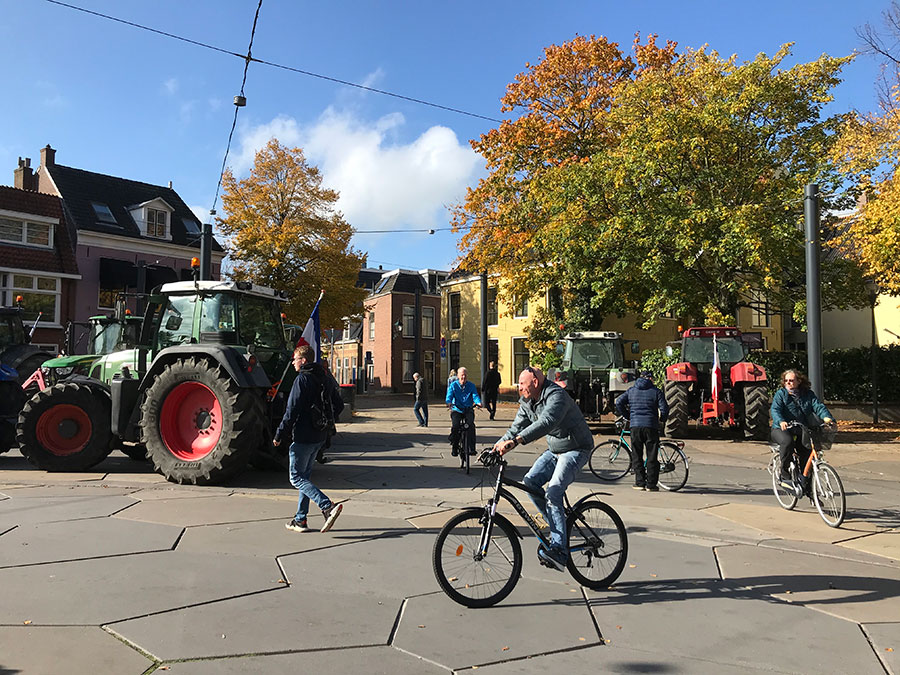 Blokhuisplein Leeuwarden, our design of a square with 600 concrete tiles being tested by local farmers - october 2019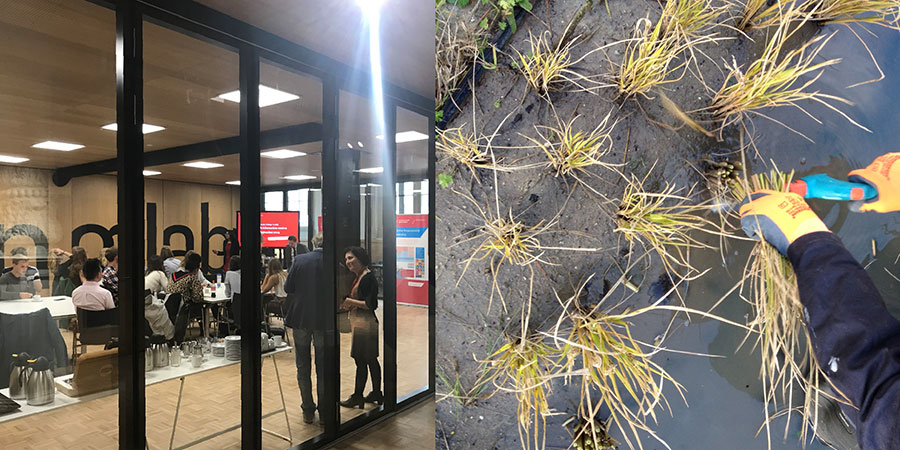 Official collaborating with University College (RuG/Campus Fryslân) in our edible water garden project - 23 september 2019
The Living Lab students will work on 'Local solutions for Real World Global challenges'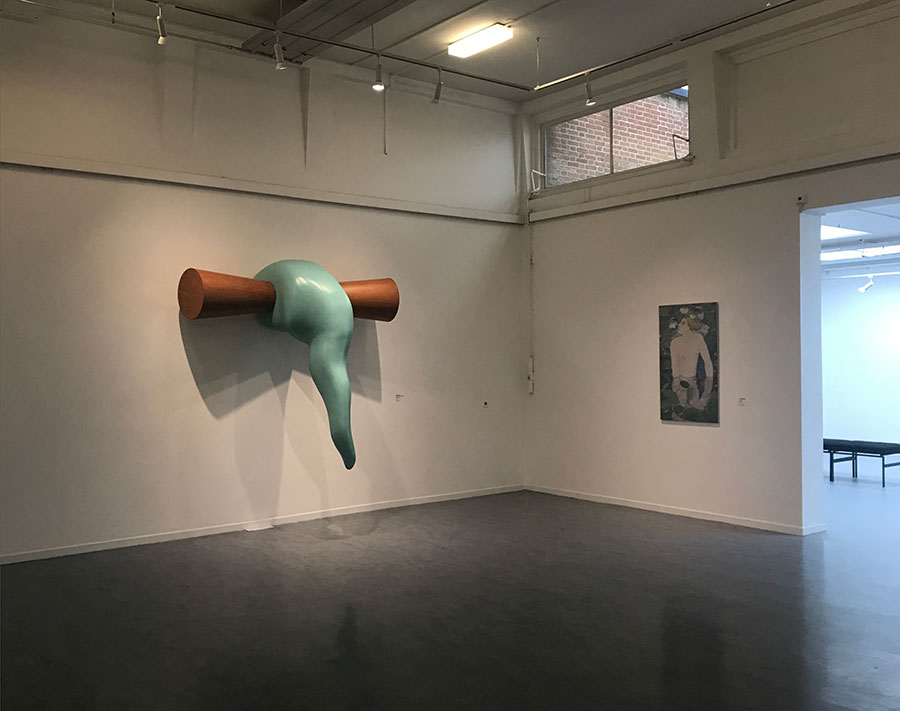 'Between the Ears' on view at 'Fundatie Fusions', Kunsthal Hof 88 in Almelo - june 2019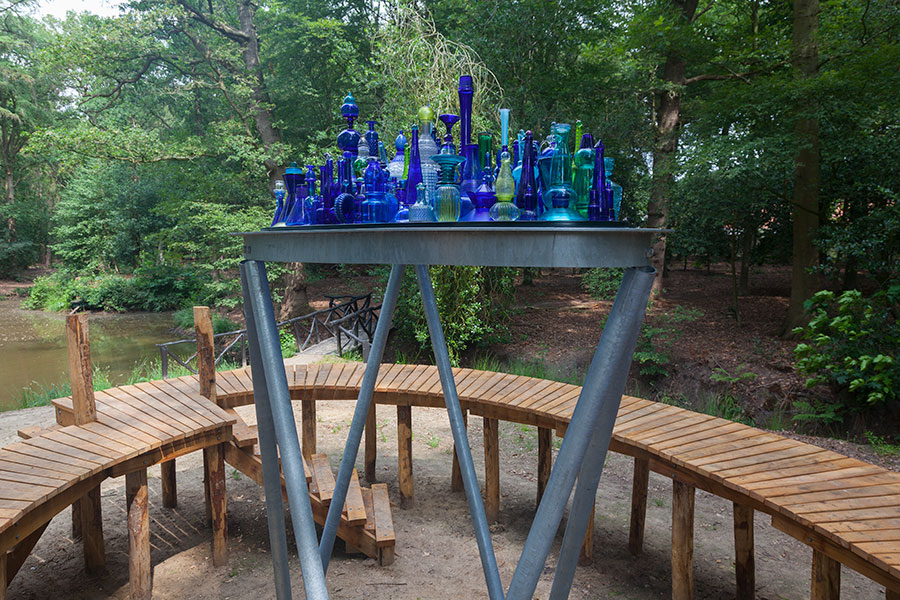 Blue glass composition in the Molenbosch Wood Oldeberkoop - Open Stal 2019
Visitors and volunteers of the Open Stal exhibition 2018 collected a huge amount of blue glass that was stacked into a composition to be viewed from below or at height from the wooden stage surrounding it.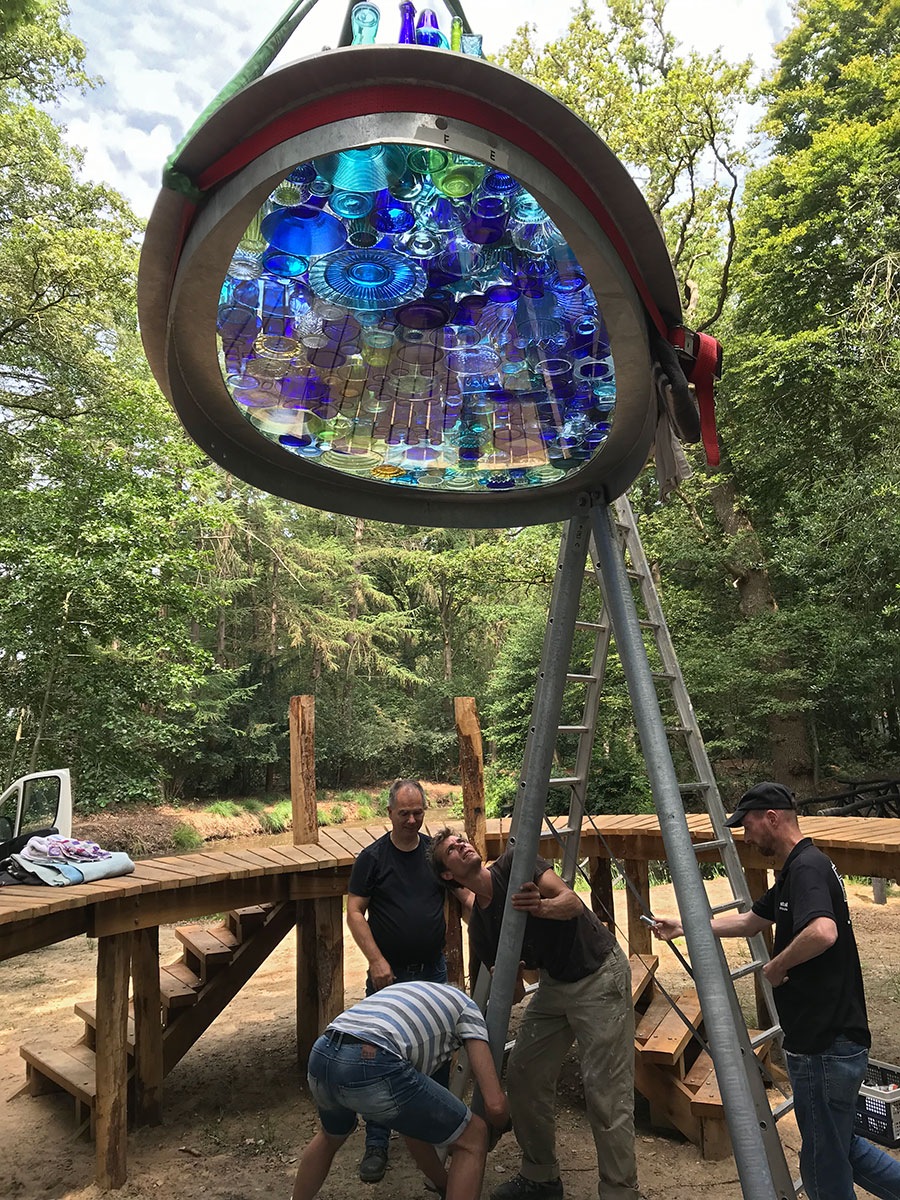 Assembling the glass sculpture for the Molenbosch Wood in Oldeberkoop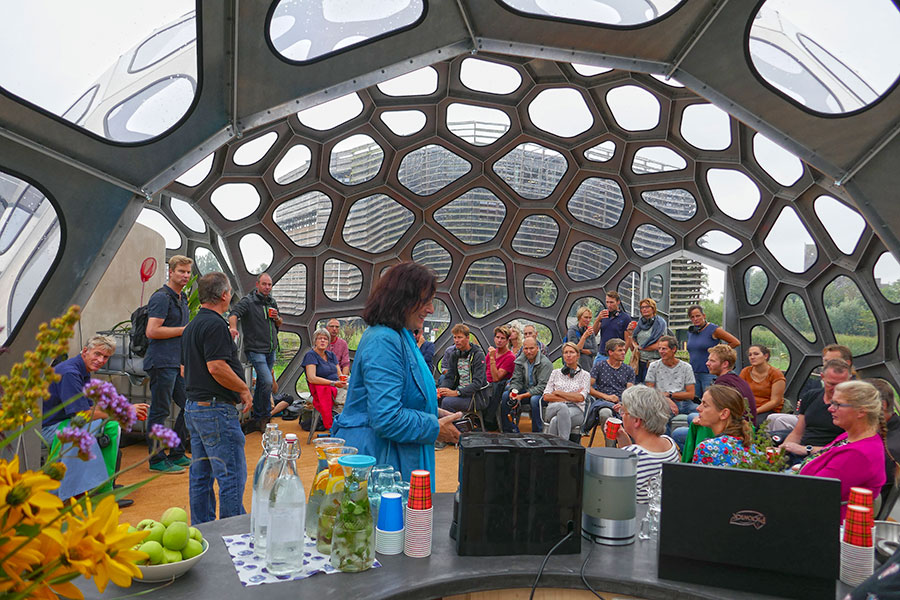 Plenty of room and great acoustics
Homegrown watercress soup for 'Wetterskip Fryslân' excursion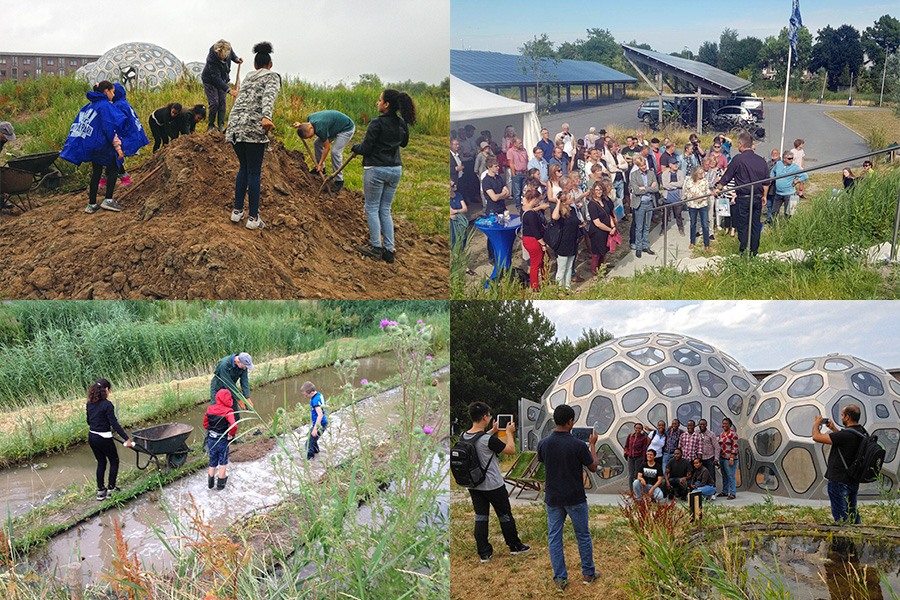 First week activities
Pupils of OBS Potmarge gardening the sawa, official opening of the WaterBar and TU Delft students visiting the WaterCampus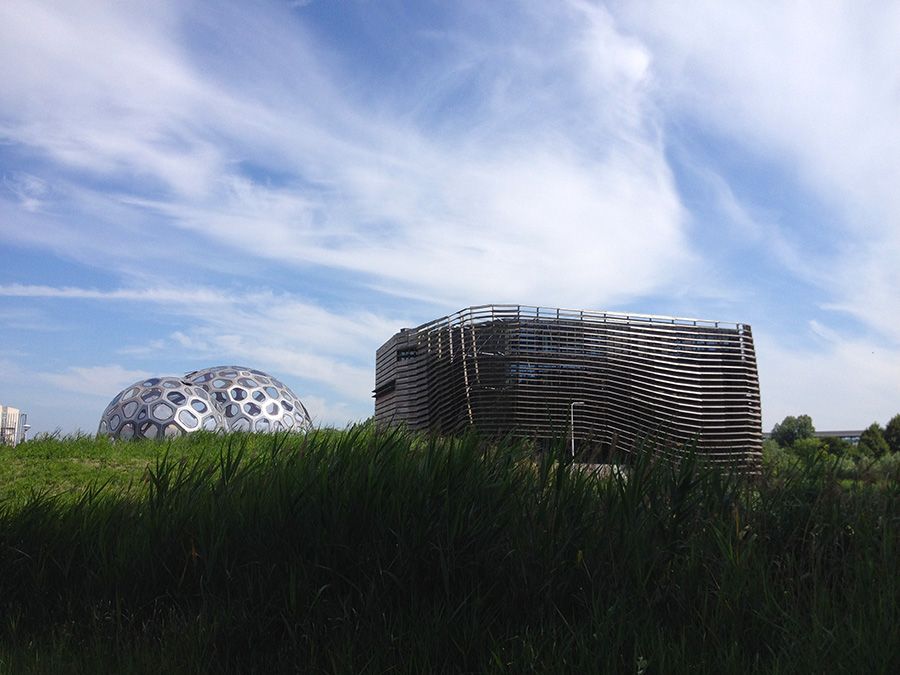 Waterbar - 2018 - LF2018 Leeuwarden
Triple domed building (H2O molecule) on a hill, designed to be a social centre for students, guests and neighbours of the water campus. Different kinds of experimental waters and water vegetables can be consumed here. The facade is related to the Voronoi mathematics of sea foam. The bar is surrounded by (water) gardens.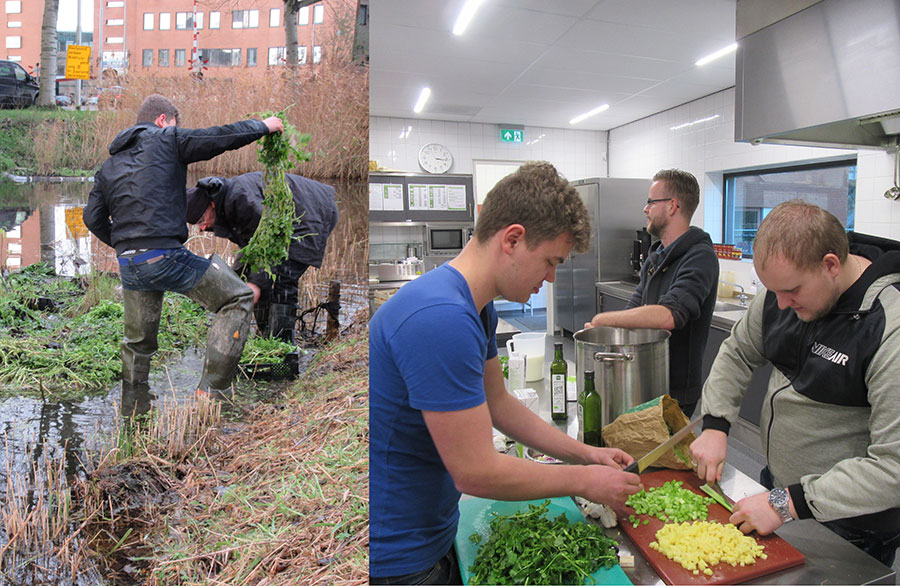 'Harvest of the aquatic vegetables' - 2018 - LF2018 Leeuwarden
Students of Nordwin College are collecting watercress growing in the floating gardens and are experimenting with making soup of it for fellow students and guests.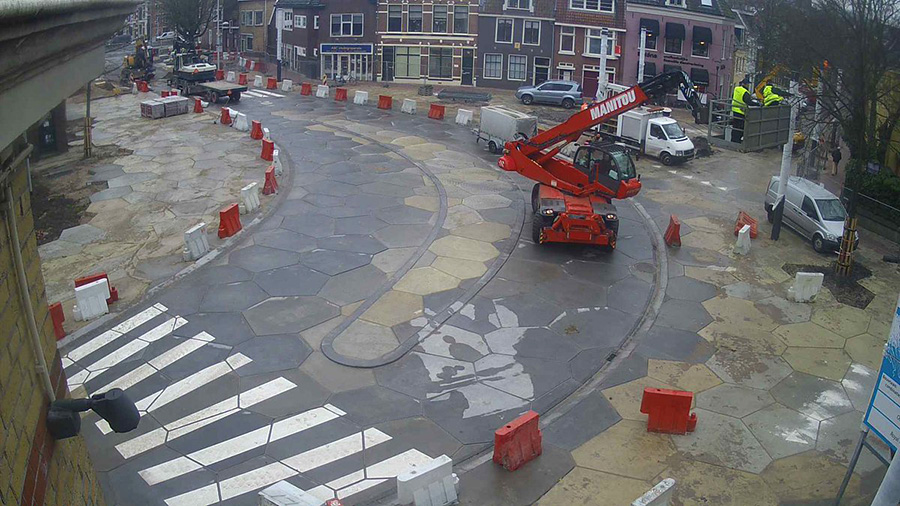 'Cells' 2017 - under construction: Blokhuisplein, Leeuwarden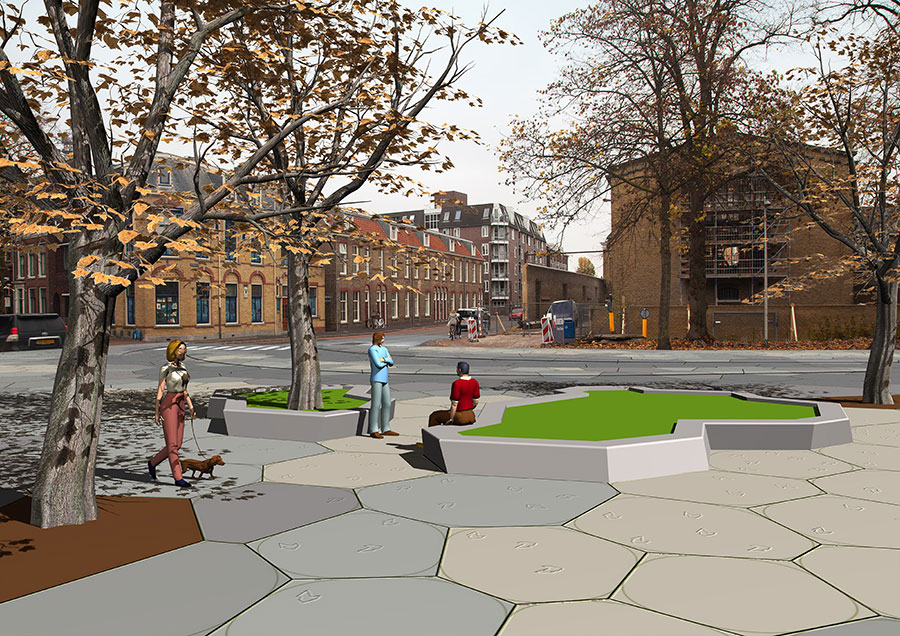 'Cells' 2017 - design for Blokhuisplein, Leeuwarden
Commission of Wijkpanel Binnenstad Leeuwarden to design street furniture and a pattern of concrete tiling to be used for the newly shaped square (shared space) in front of De Blokhuispoort (a former prison, now a cultural centre).
The concept of the shapes of the tile floor is based on the growth of natural cells. The square needs a new organisation of traffic: the busy crossing of roads metamorphoses into a shared space where pedestrians and cyclists feel welcome and comfortable. The design of the new pavement has graded earth colours and shows us by highlighting the safe zones. A birdswarm pattern in the concrete seems to lead the passersby with their wisdom of free use of space.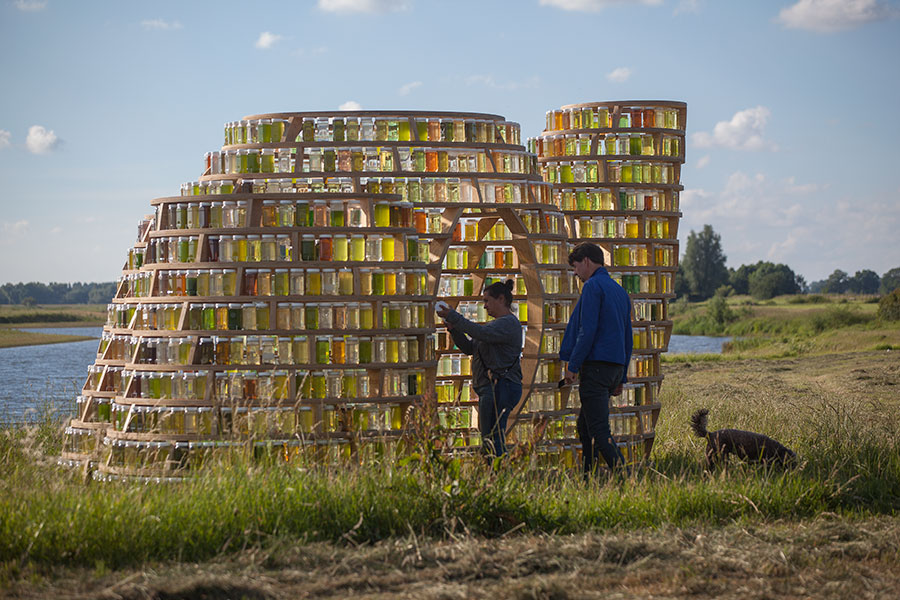 'Borboros', 2017 - IJsselbiënnale, location Deventer, 14.06-24.09-2017 wood, petbottles, dirty water
Waterpavilion with shaped walls, inspired by the flowing geometry of the river landscape. It contains 1800 bottles, filled with surfacewater and organic material like algae, funghi, bacteria and sludge. Sunlight and time influence the organic sediment. The collection of waterbricks grows by participation. A constant interaction between human action, ecology and image is the result.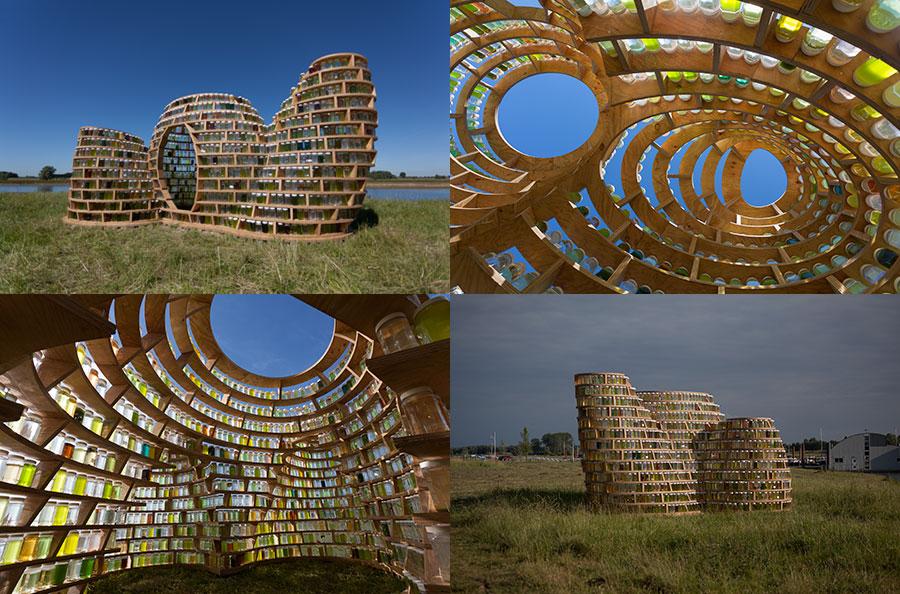 'Borboros', 2017 - IJsselbiënnale, International Sculpture Route along the river IJssel, location Deventer, 14.06-24.09-2017
For more information visit www.ijsselbiennale.nl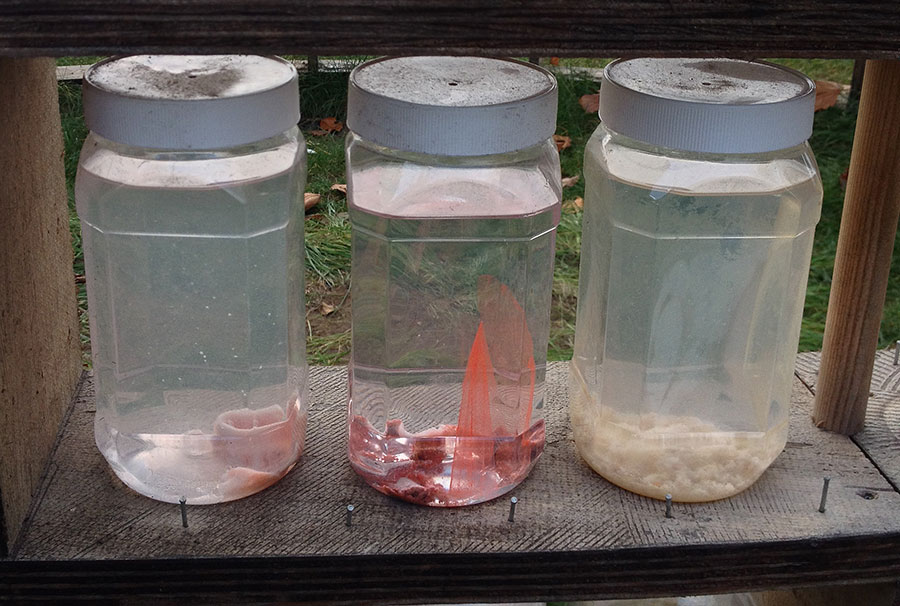 Water samples with algae, showing all kinds of shapes and discolouration over time.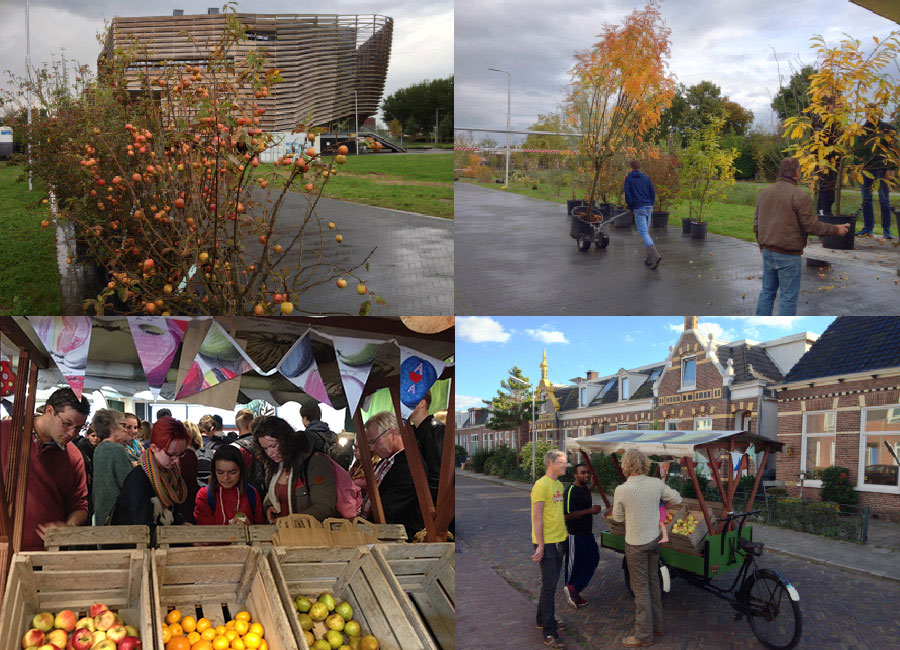 Seizure of the WaterCampus, 2016
Neighbourhood cooperation 'De Hoftuinen' plants an edible forest and takes its 'fruit-for-free' Knoop-kar in use.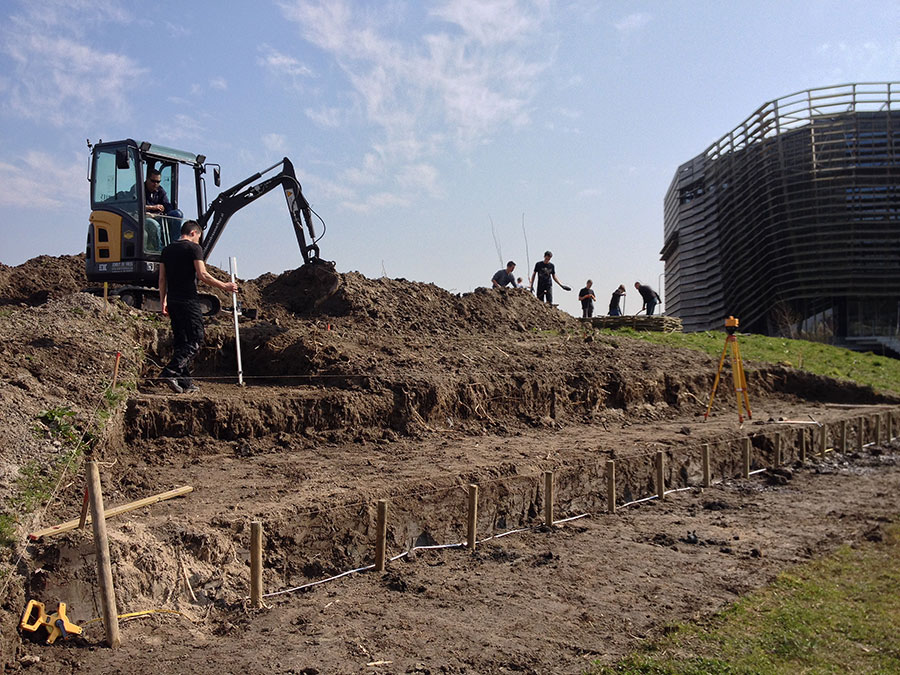 Seizure of the WaterCampus, 2017
Students of the Nordwin College are constructing a sawa, part of the aquatic vegetable garden 'Wettergriente'.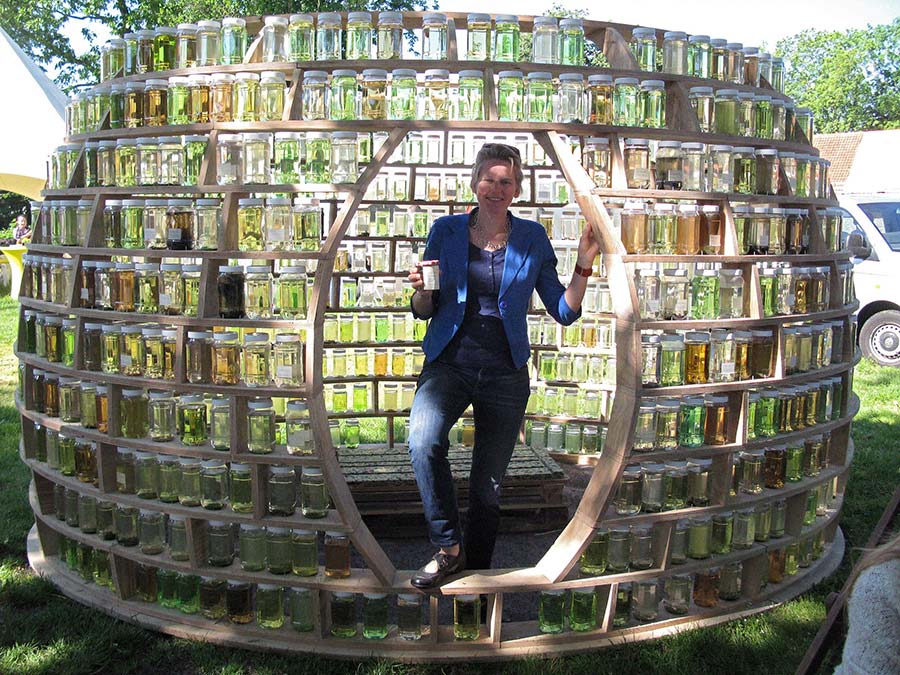 'Stille Wetters' (aquatheek), 2013 - 1000 bottles with ditch water and algae, wood
A small water pavilion that is travelling along different places with the intention to form a growing water collection by the help of social participation. Designed for a new water technology campus the aquatheek is the equivalent of a library, a source of collected knowledge and a place of inspiration and concentration. Visitors donated a.o. water from little pools, fountains, the Dead Sea and the River Ganges. In that way, it is a permanently changing mirror of the international community that is related to the project.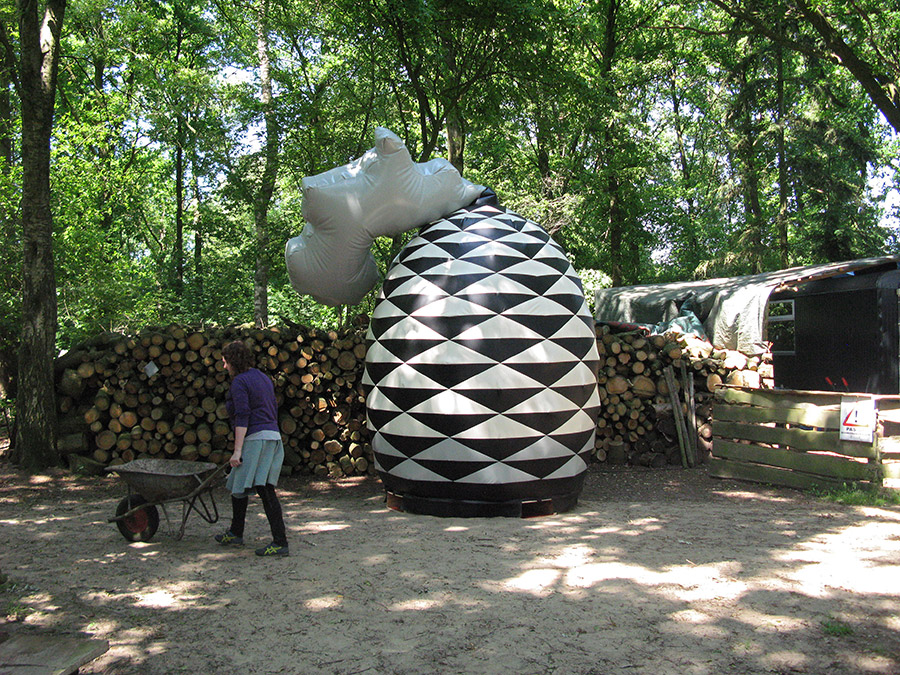 'Pied-à-terre', 2015 - inflatable - bisonyl, wood, blower

An inflatable sculpture constructed like a pineapple placed in the woods near Deventer. The history of this place gave rise to the concept: on these bare, common grounds of old trees, hay and sheep, the rule was: anyone who is able to build a house in one night and can light the fire inside and let the chimney smoke the next morning, is free to stay. In this case, considering the contemporary refugee problems, the smoke has an African outline.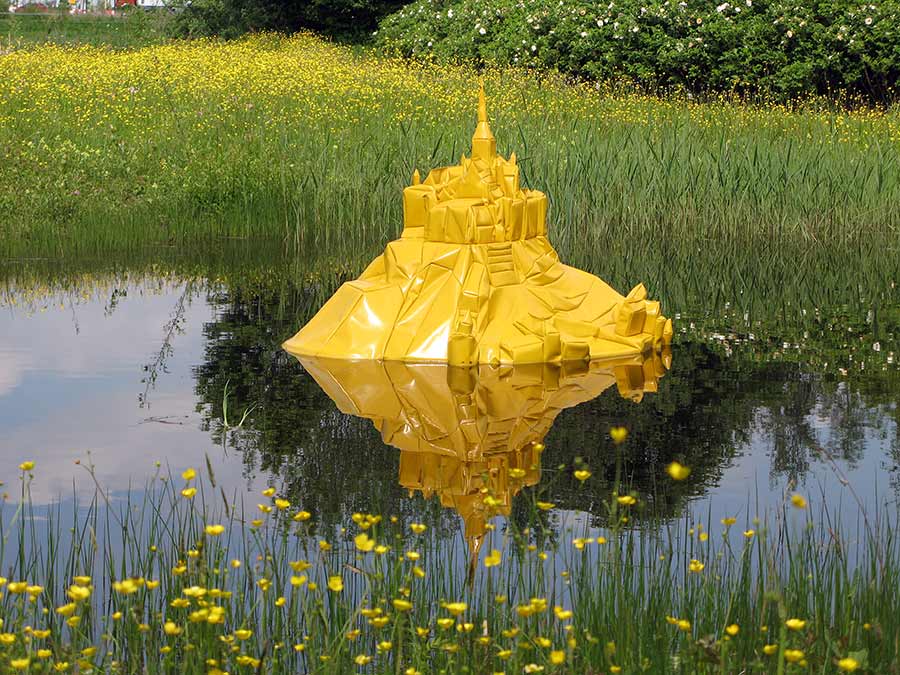 'Floating Point', 2012 - wood, bisonyl
Installation in cooperation with an organic cheese factory with special Jersey cows. The tiny and lively brown cows were imported from the canal island Jersey and transported to the Frisian flatness. For them Le Mont Saint Michel is a dreamy point on the horizon. We decided to sew the holy consolation of their past, in cheese yellow trucker fabric for them to look at.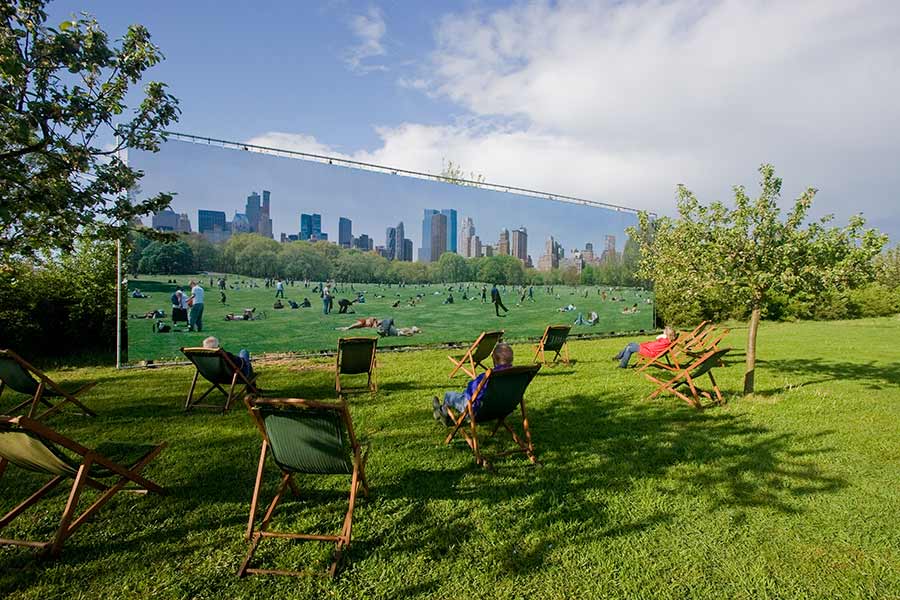 'Interpark', 2008 - print on bisonyl, beach chairs
KORT IS DE TIJD EN ONHERROEPELIJK - Park Groot Vijversburg Tytsjerk - with Maria Roosen, Luc van Soom, Makkink & Bey, Koen van Mechelen
During several hours visitors of Central Park, New York, were photographed and merged together in one image of 18,5 meters wide and 5 meters high. Thus researching how people use the public park space in a big city, the personal distance we all feel becomes unavoidably sensible. While sitting on the grass chairs we become a part of the scene and at the same time experience the freedom we look at and the necessity to share this scarce common space.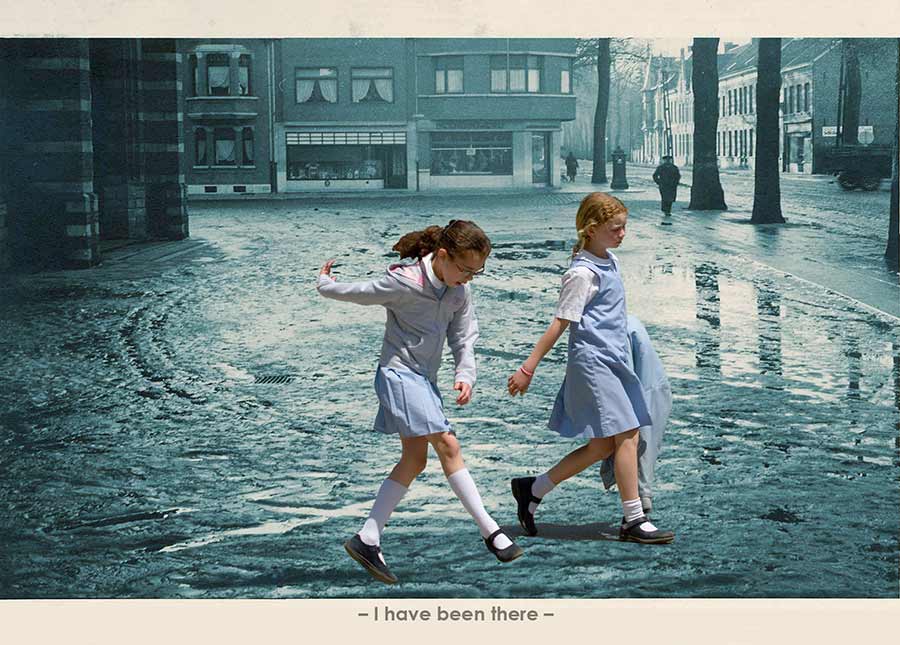 'I have been there', 2012 - postcard project - Turnhout, Belgium
TWEESPOOR, De Warande - with Anne-Mie Van Kerckhoven, Guillaume Bijl, Luc van Soom, Cristian Bors & Marius Ritiu a.o.
Resting visitors in front of the park scene were asked to write their personal memories, thoughts or greetings on special postcards. Several hundreds of cards were later sent to random inhabitants of the town. For these surprised strangers free admittance to the manifestation was given.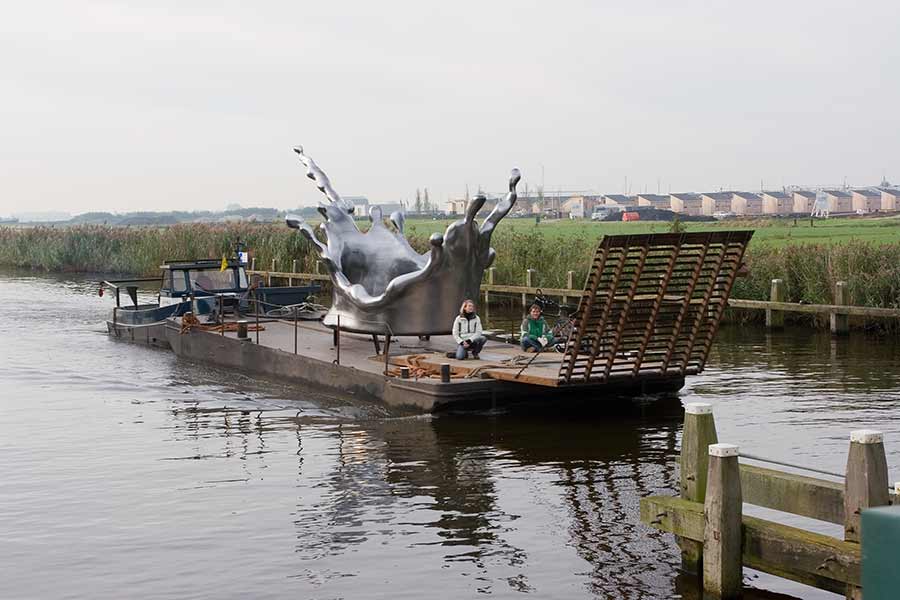 'Mercury Rising', 2008 - stainless steel, polystyrene, polyester, chrome-painting
The sculpture of a splash was digitally designed, sawed in dozens of layers of foam and formed around a welded inner frame of stainless steel. Shaping and modelling was done in our workshop, epoxy application and spray painting in the hall of a shipbuilder. Because of its size the sculpture had to be transported to the final location in the city of Sneek by boat.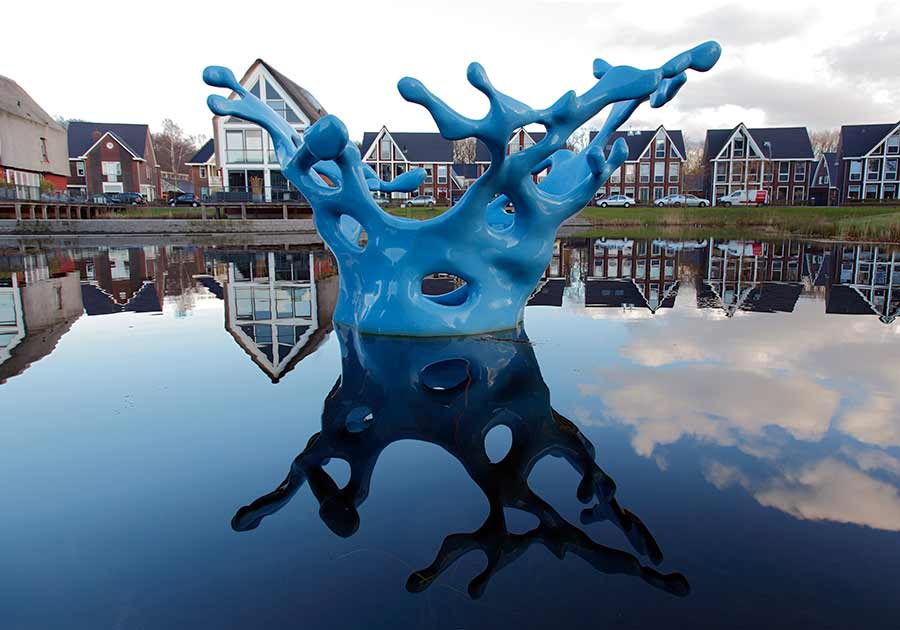 'Caprice', 2011 - stainless steel, polystyrene , epoxy - Nunspeet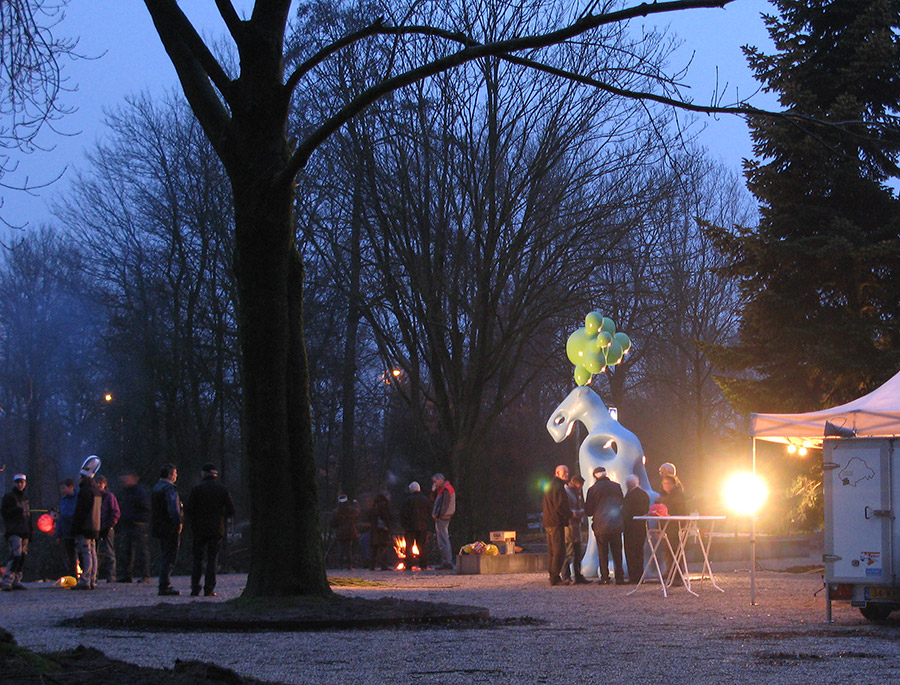 'The Dreamer', 2014, Oss
In a densely populated district with a great variety of nationalities an outstretched public space was recently refreshed and restored. The work is based on the terms 'dream' en 'wake', essential ingredients for the inspiring entourage that was constructed and protected by the community. The adjoining benches were decorated with these two terms in all 52 languages that are spoken in this neighbourhood. The playground is extended with the sculpture of a dreamlike animal with its head in the clouds, seemingly fantasising and at the same time watching the horizon.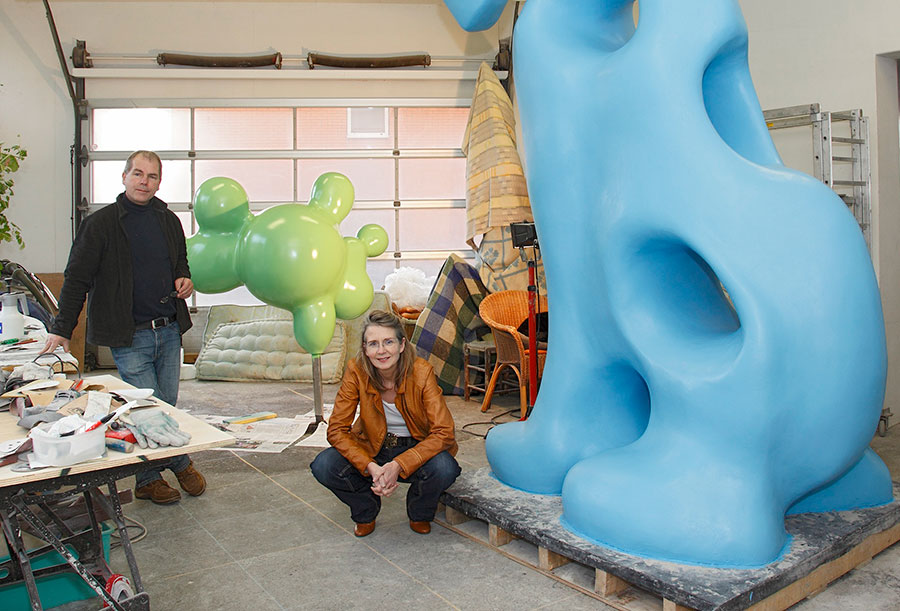 Studio picture – 'The Dreamer' ready for transportation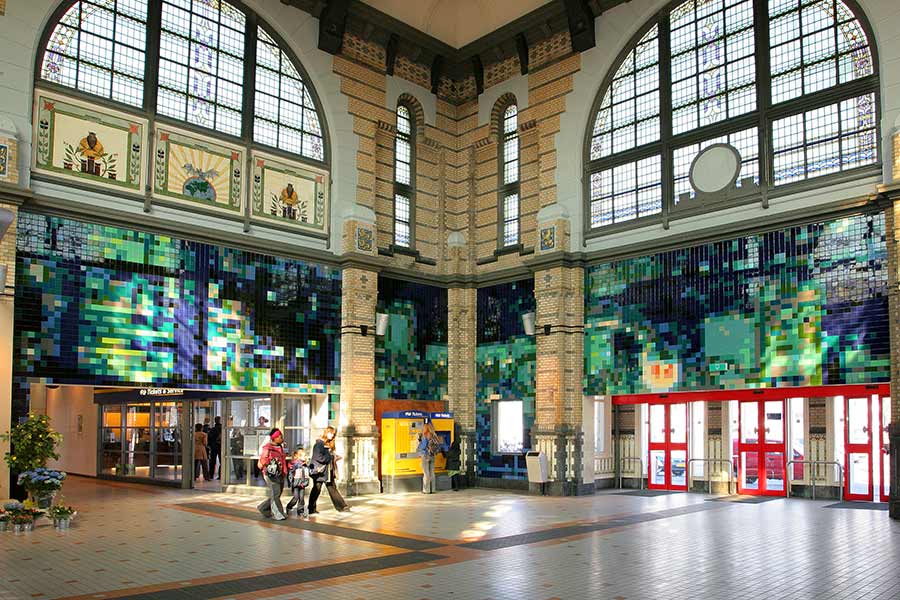 'Urban Constellation', 2000 - ceramic tiles 140 m2 - Railroad station, Leeuwarden
Pixelated panorama of a city by night, integrated in the Dutch nineteenth century railway station architecture. The work symbolises the appearance of the illuminated city in the middle of surroundings of dark meadows; the lights are urban made constellations of stars in heaven.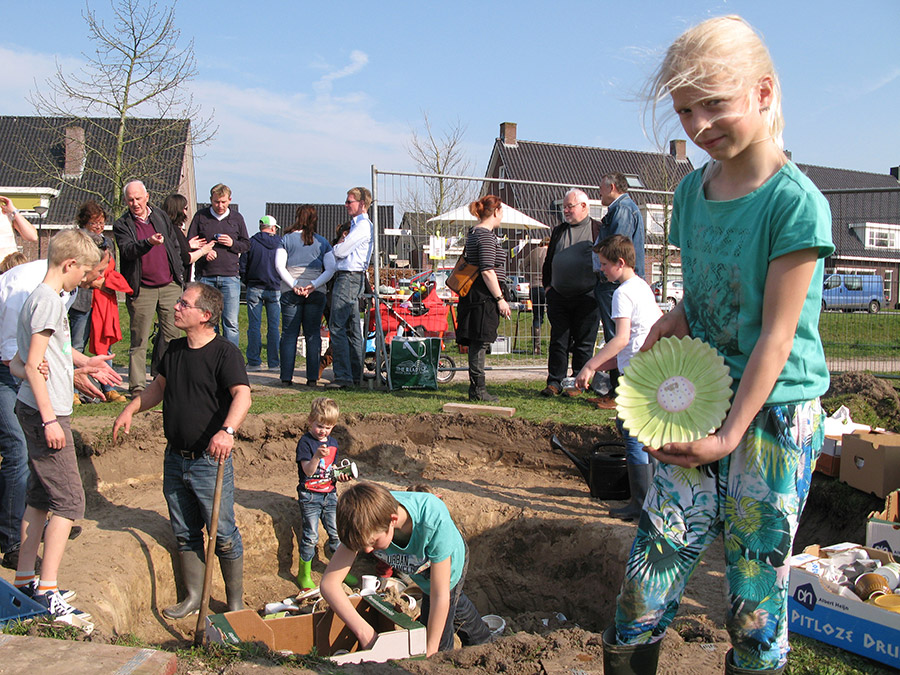 'The Depot', 2014, Dalfsen
Living on historical grounds is a normal situation for the new residents in Dalfsen. Most authentic pottery from ancient times that is dug up is telling us stories about the past. In this project the community is invited to collect personal pottery and ceramics to make a new, fresh depot for the future. The response was enormous, an entire trailer full of teacups, vases, decorated plates, even a collection of ceramic geese was brought in. On a sunny Saturday the lot was buried, including letters and poems in little glass bottles. Finally the hole in the ground, filled to the brim, was covered with a tile floor, designed by the children and neighbours and completed with three curved objects based on the handles of the cups they brought in. The local historical association received the special cups we made: cups with eight different handles, the result of a multiform collection.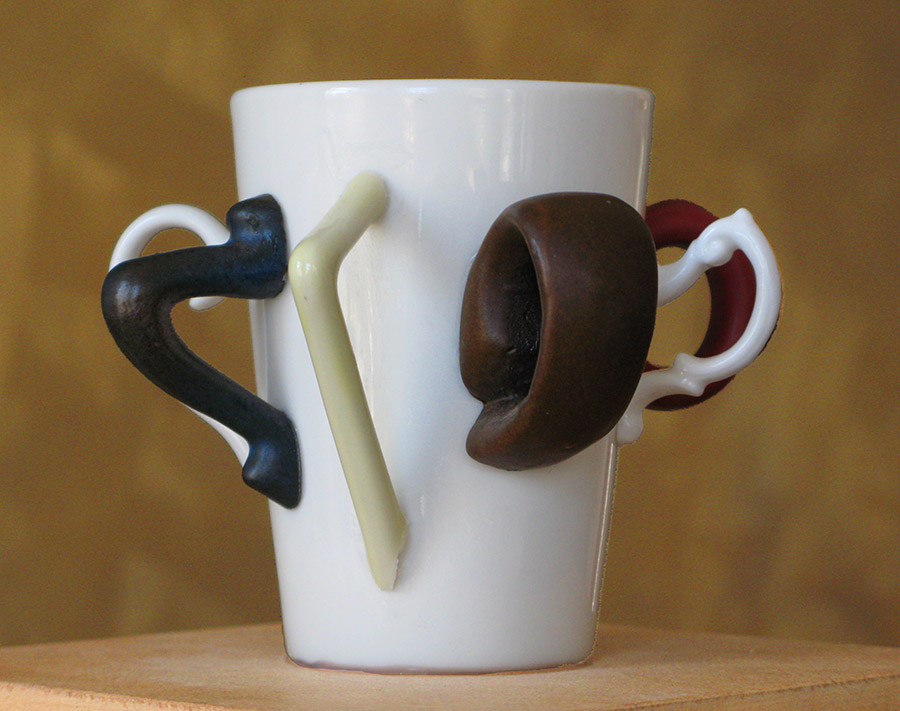 'The Depot', 2014, Dalfsen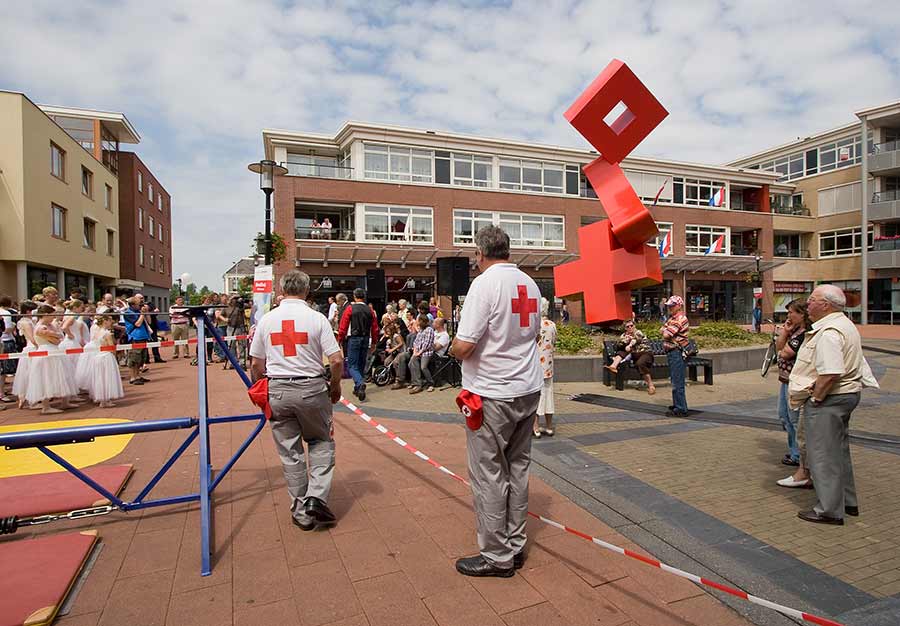 'RC/ CR (Red Cross/Croix Rouge), 2009 - steel coated - Henri Dunantplein, Hillegom
The naming of a new square is mostly either historical or meaningful for that place, in this case it was simply not. Henri Dunant, founder of the Red Cross organisation had nothing to do with this spot or even village, so we decided to take this choice seriously and confirmed it with a big statue of the official red cross symbols: a cross, a half moon and the recently added symbol of neutrality, a crystal.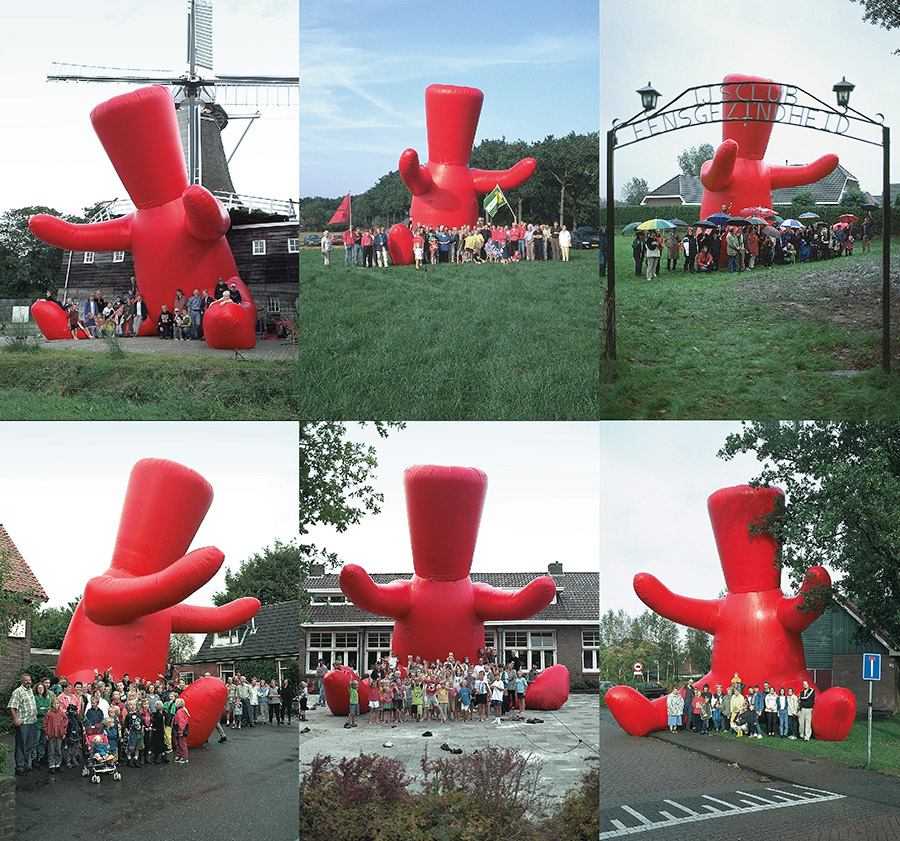 'Beu', 1999 - bisonyl (inflatable) - Elsloo
IN VERBELINGE, SKOR - Ooststellingwerf - with Allen Rupersberg, Job Koelewijn, Sjaak Langenberg, Georgina Starr, Carlo Mistiaan a.o.
Inflatable sculpture of a ten meters high headless bear that travelled during the summer months along the thirteen villages and thirteen landscapes in the Ooststellingwerf region in Friesland. Beu was the personification of the 'Bogeyman', a scary monster acting in the local oral history. This inflatable bear incidentally made a bèèèhh-noise which was related to the specific tongue spoken here. In every village the inhabitants were invited for a jointly portrait.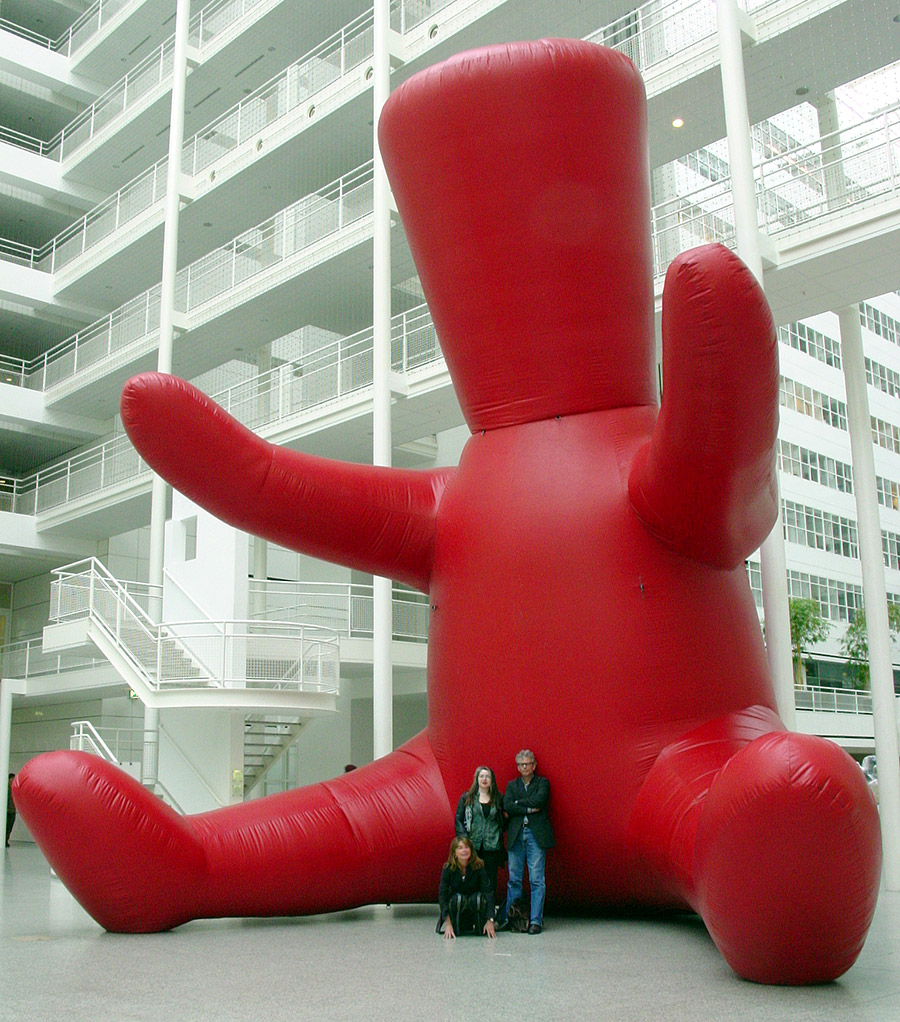 'Beu', 1999 - Den Haag Sculptuur 2004, City Hall, The Hague
GIANTS/ GIGANTEN - with Damien Hirst, Antony Gormley, Wim Delvoye, Stephan Balkenhol, Giuseppe Penone a.o.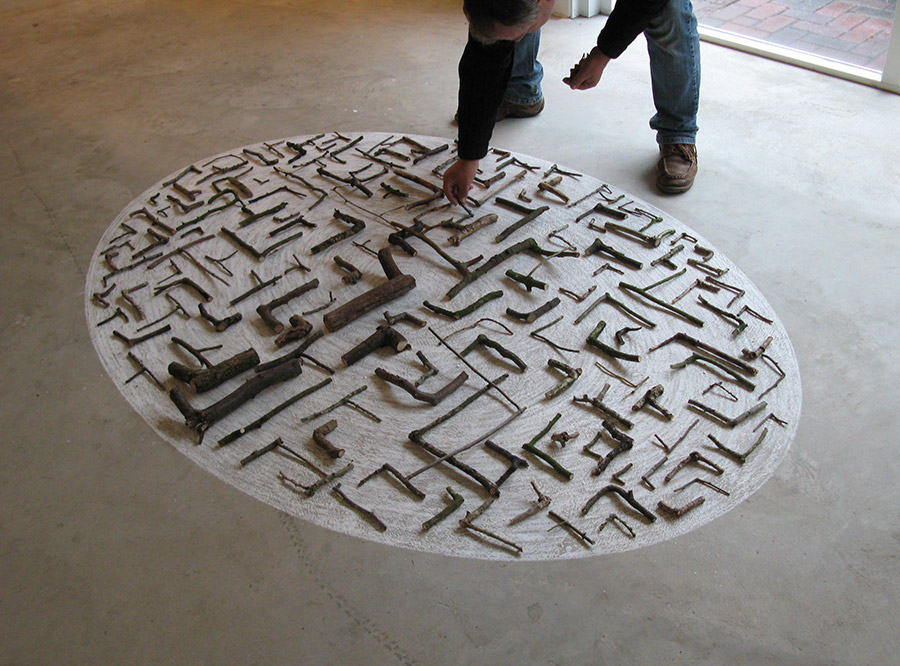 Cubic Tree, 2013
The natural development of abstraction in the evolution of life on earth. Starting point is the discovery of an increasing number of square branches in the woods. Following our evolution theory the branches of trees eagerly want to become more orthogonal as they are aware of their functional use by people (e.g. buildings, houses). Timber connections would be easier to construct and thus less waste wood would be thrown away and processes would be more efficient. Trees will live a longer life, everybody happy.
'Leegte' (6 parts), 2002 - enamel, wood, galvanized steel - Zeewolde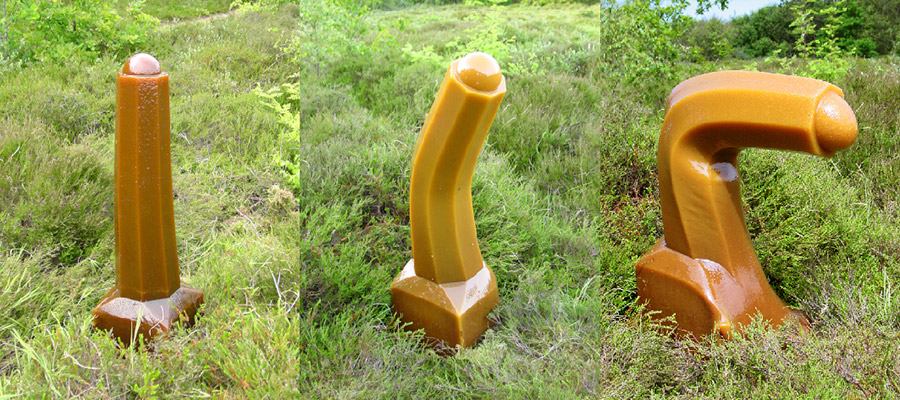 'Territory', 2004, temporary project, Terschelling
Seven border markers, made of cast sugar, were placed in the open field of Terschelling on the Oerol Festival. During the festival days they melted down in the sun.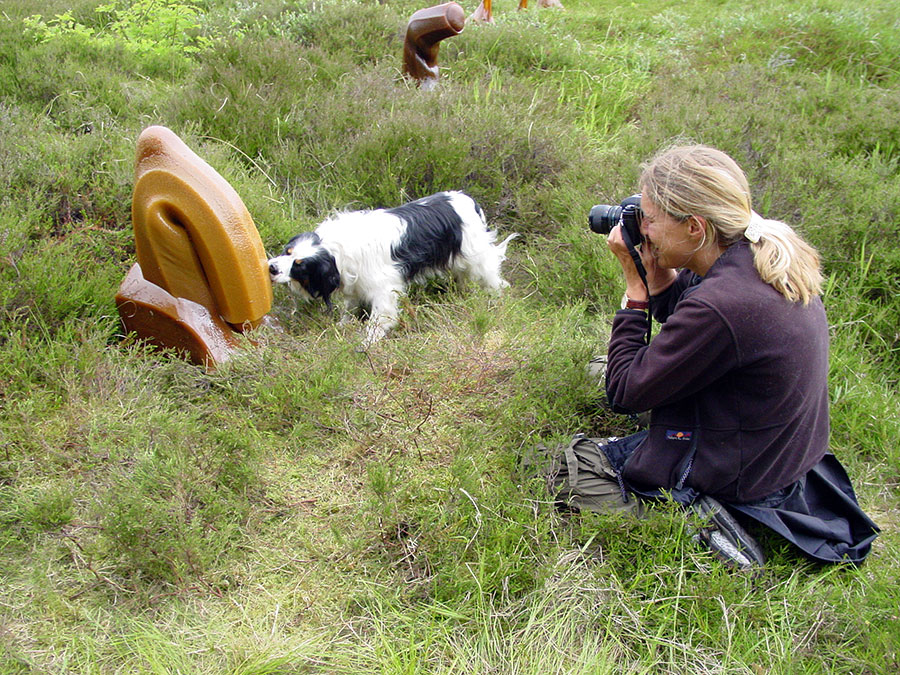 'Territory' (7 pieces), 2004 - sugar - Terschelling
OEROL FESTIVAL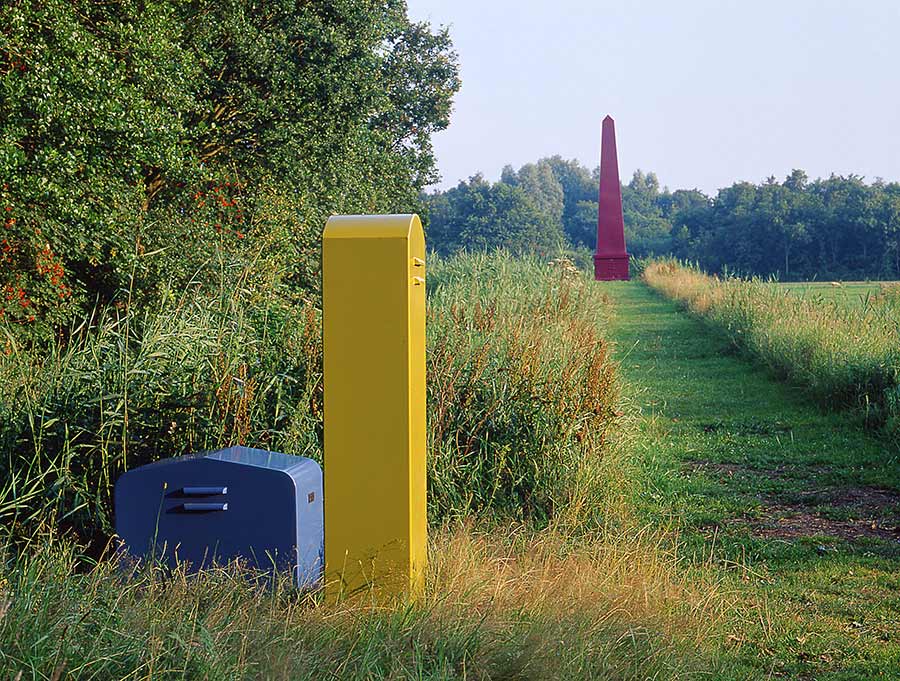 'De Drie Gratiën', 1999 - steel coated - Park Groot Vijversburg Tytsjerk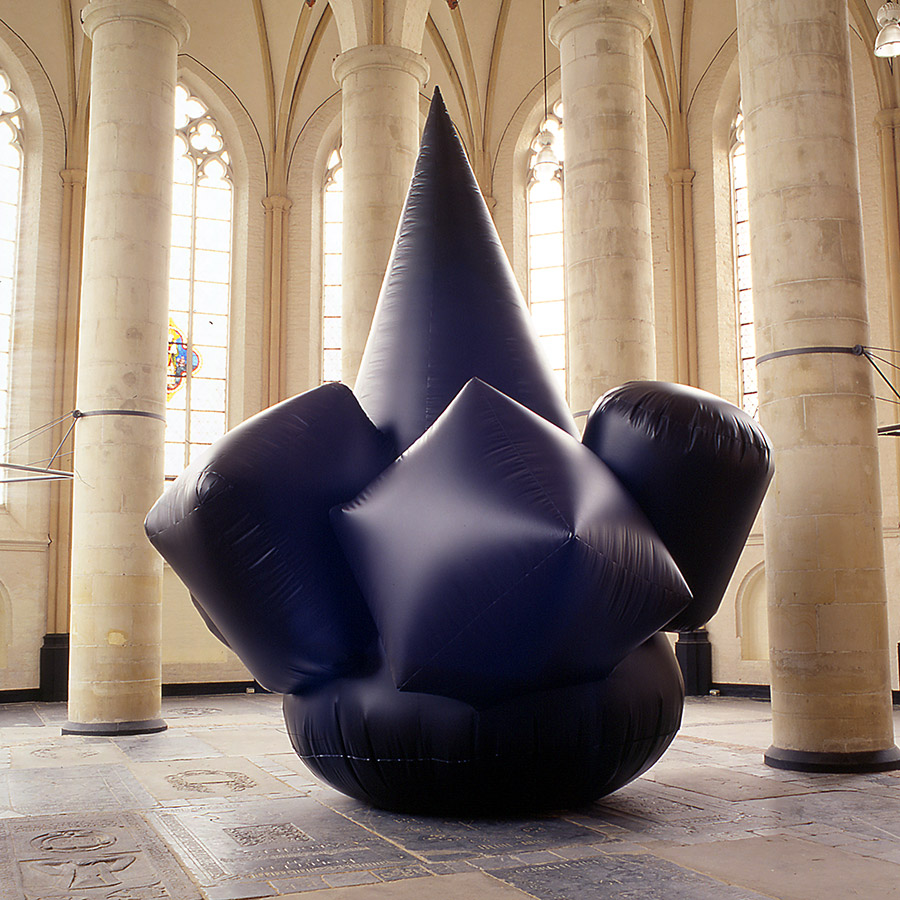 'Utopia', 2000 - bisonyl (inflatable) - Bergkerk Deventer
SURFACE TO AIR, solotentoonstelling - dependance De Fundatie Zwolle / Het Nijenhuis Heino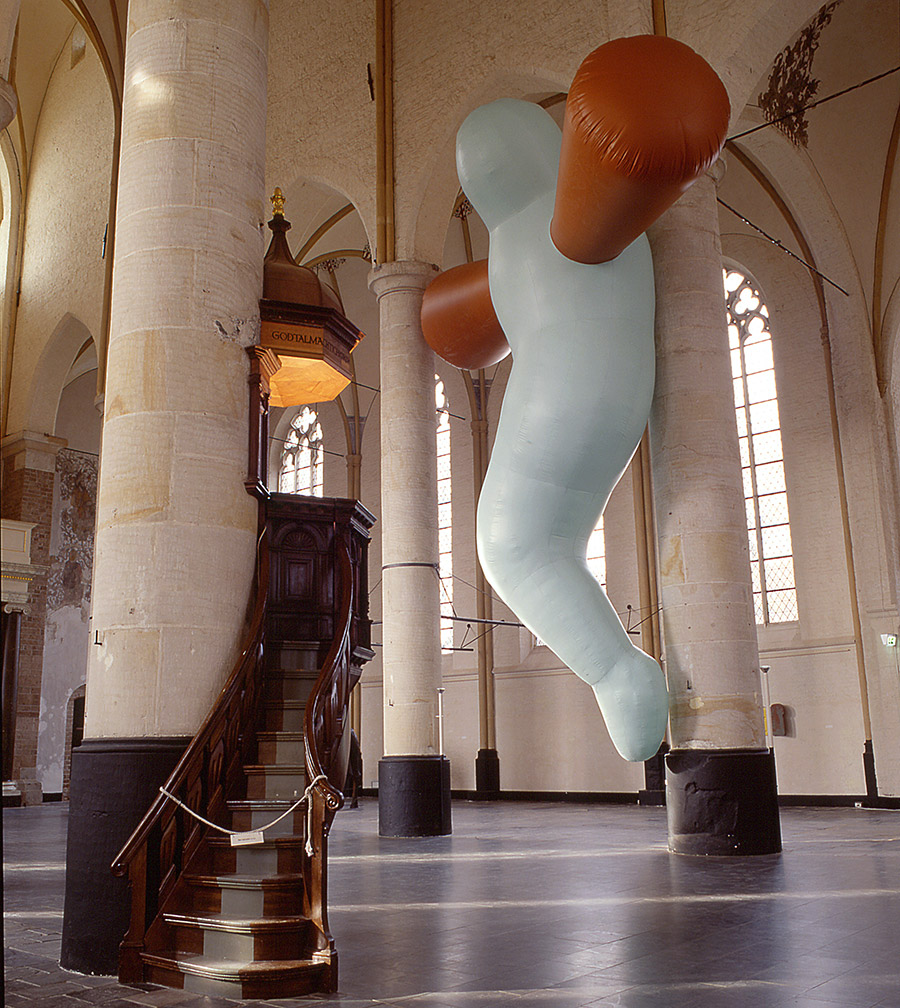 'Crucifer', 2000 - polyestherfabric (inflatable) - Bergkerk Deventer
SURFACE TO AIR, solotentoonstelling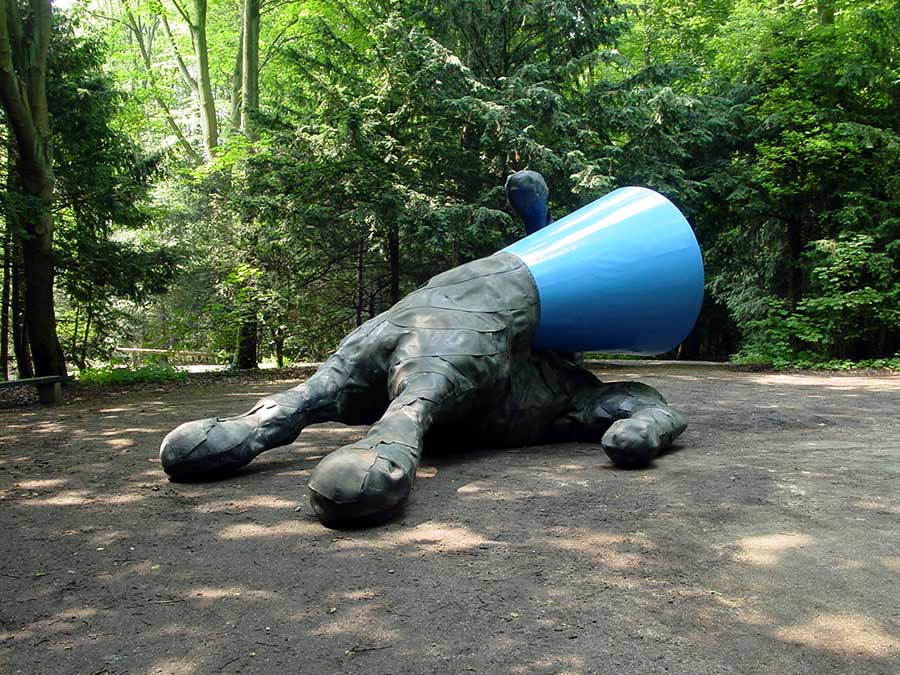 'Scratch', 2002 - wood, bisonyl, rubber - Amsterdam
Amsterdamse Bos - with Amsterdamse Bostheatergroup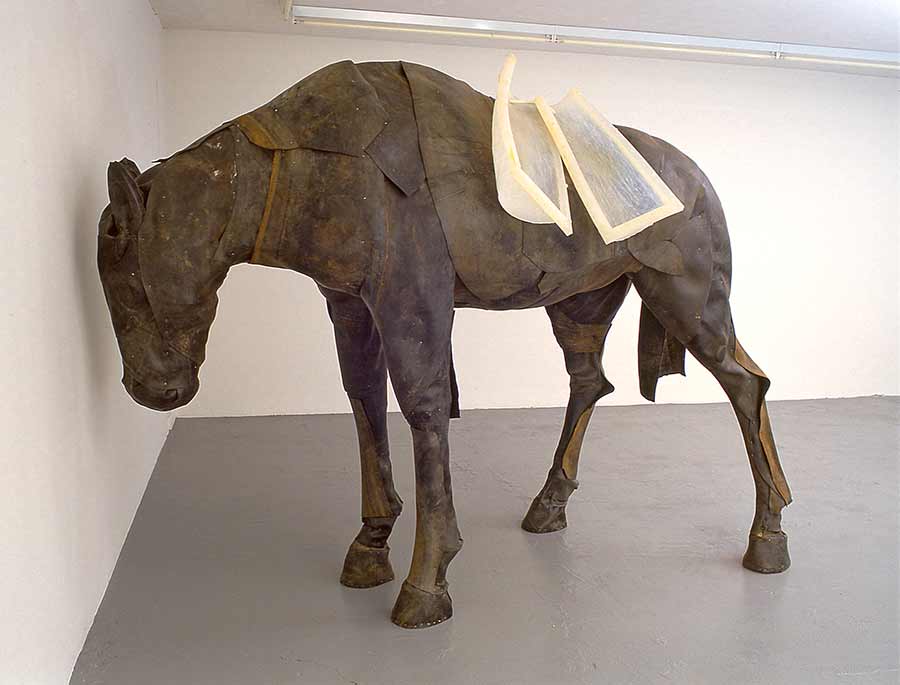 'Stability', 1999 - wood, rubber
BETWEEN THE EARS, solotentoonstelling - Bureau Leeuwarden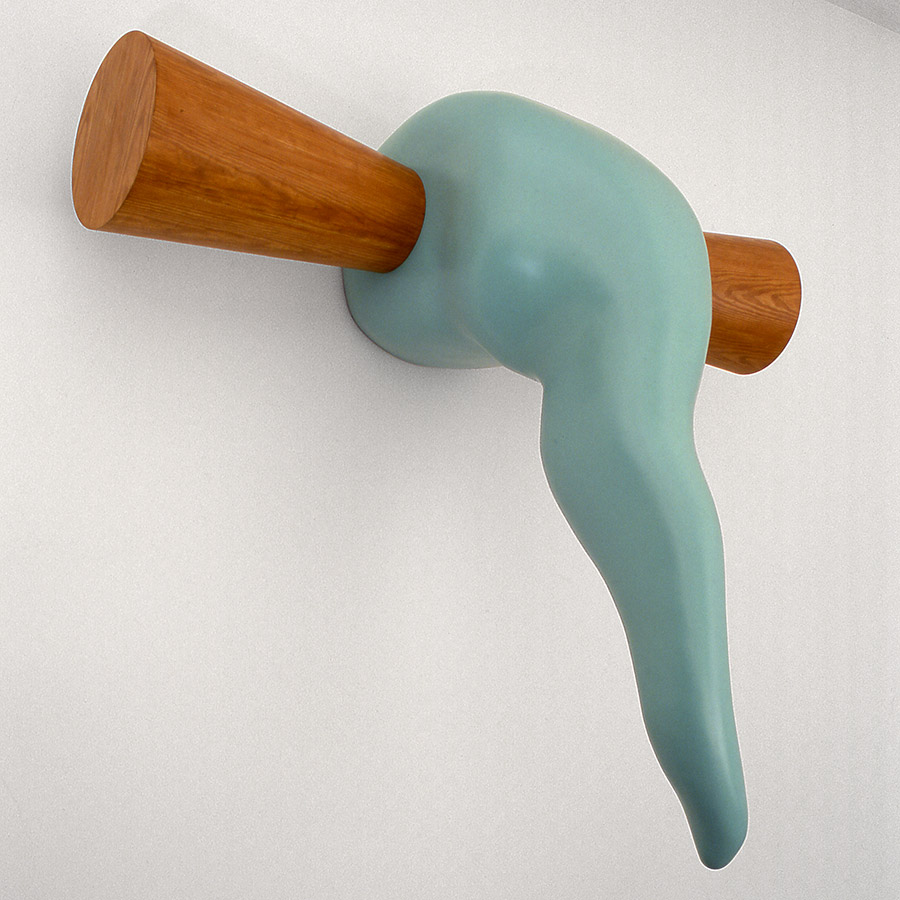 'Between the Ears' - wood, veneer, epoxy
WILHELMINARING 2000 (nominations) - Apeldoorn - with Joep van Lieshout and Adam Colton.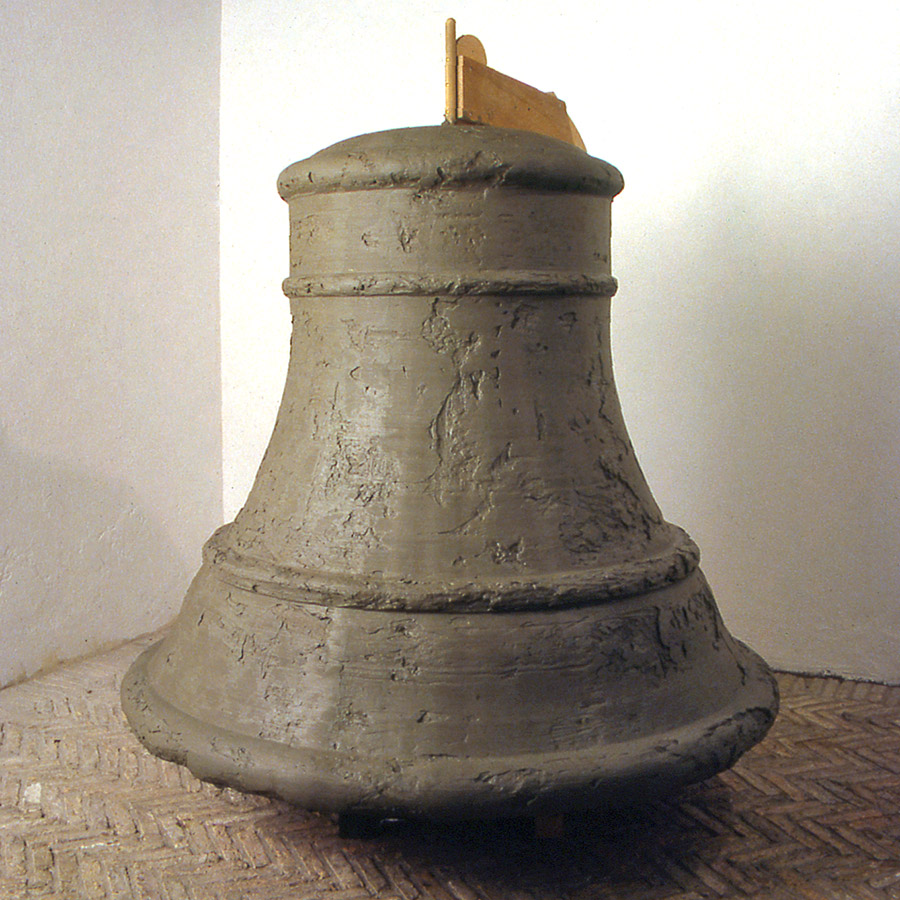 'Hink, stap, sprong', 1988 - wood, fresh clay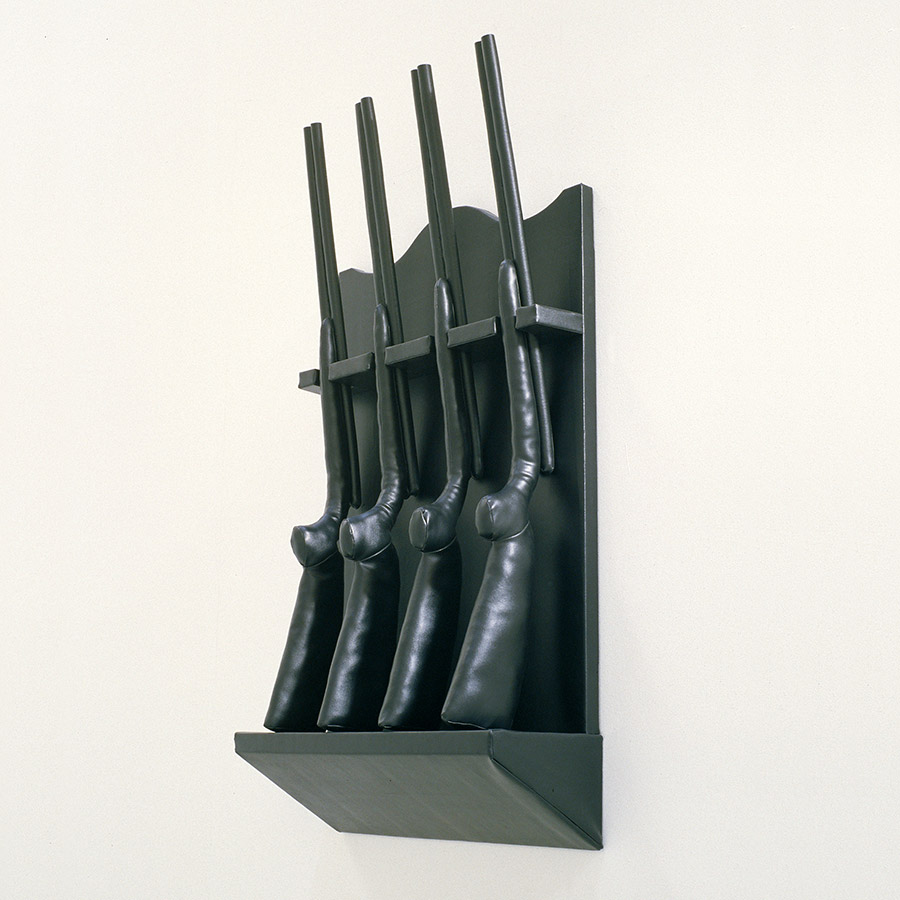 'Shooting Party', 1992 - wood, artificial leather - W139 Amsterdam
EN SCÈNE- with Driessen & Verstappen, Fortuyn O'Brien, Krijn de Koning, Jan van de Pavert, Hans van den Ban a.o.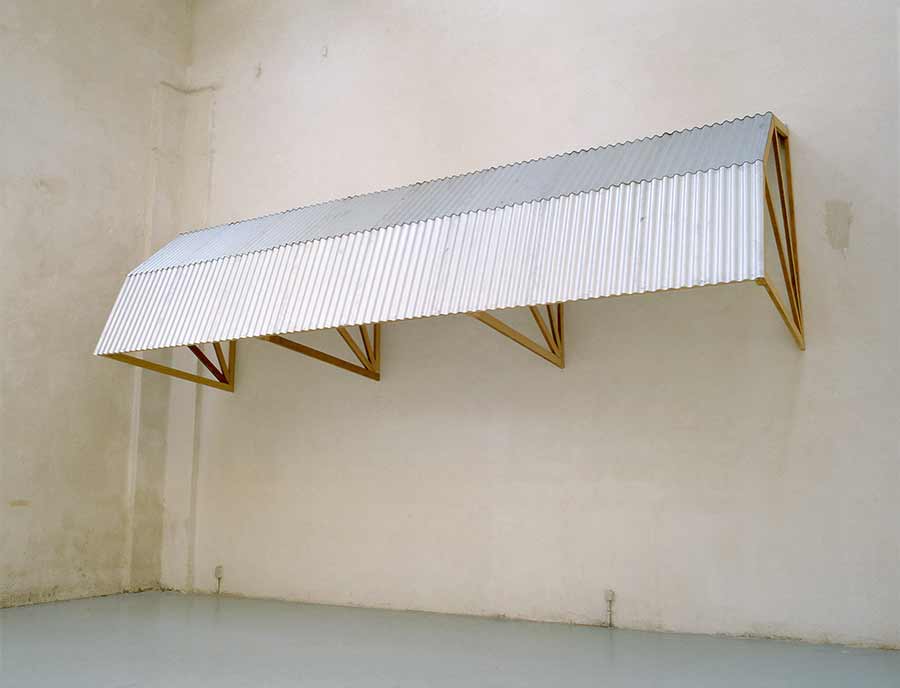 'untitled', 1992 - wood, corrugated iron - W139 Amsterdam
EN SCÈNE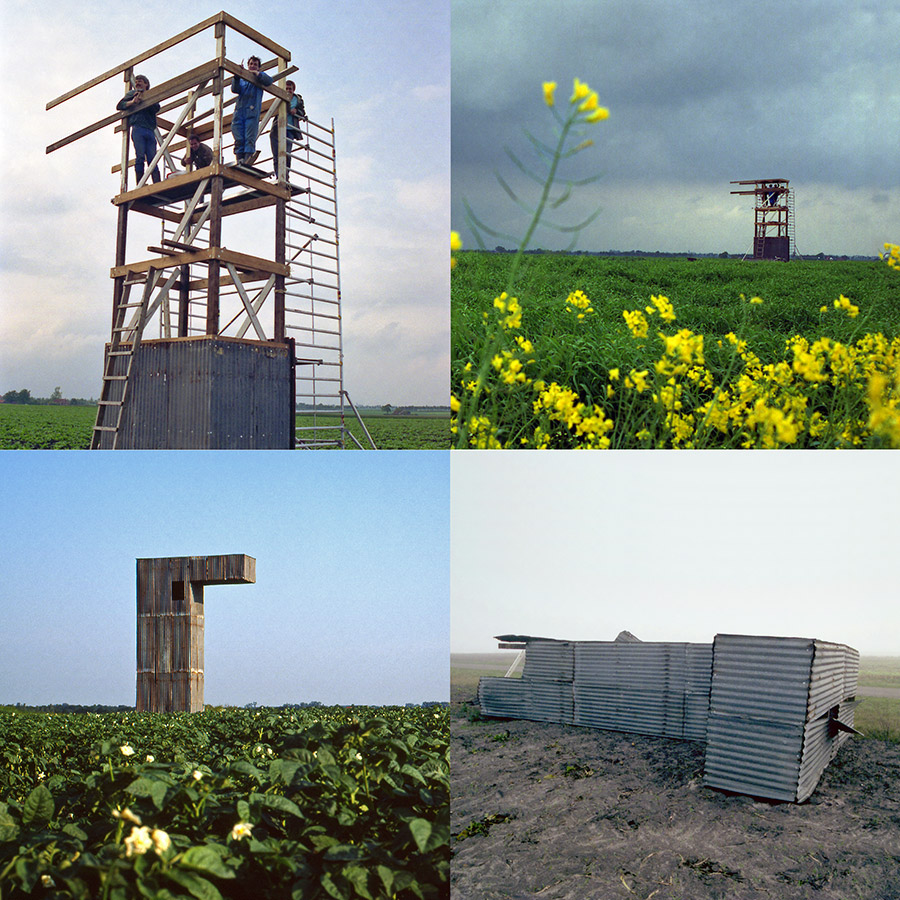 'Radius', 1991 - wood, corrugated iron - Onstwedde
TUSSEN JUFFER EN BORG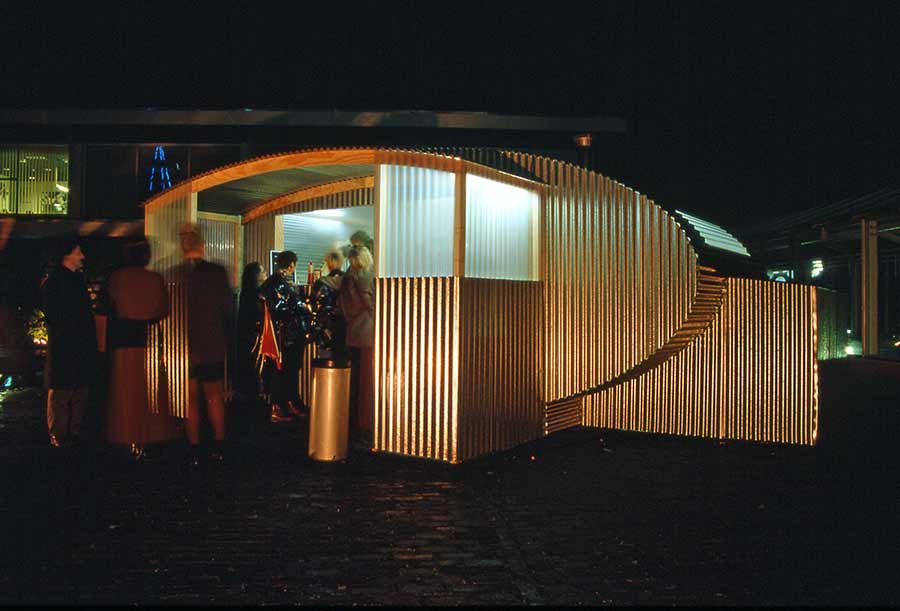 'Dutch Digest', 1994 - wood, plastic, corrugated iron - Groningen
DE BRON, CBK - with Hans van Bentem, Sjoerd Buisman, Sonja Oudendijk, Joseph Semah a.o.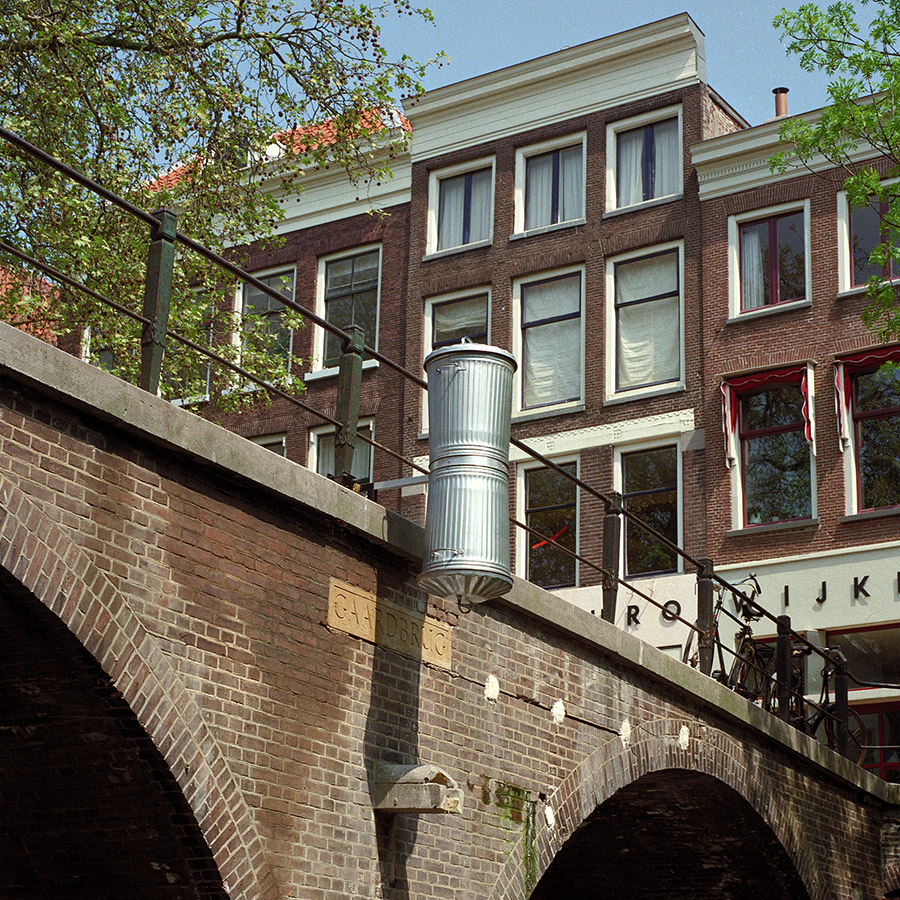 'Bins', 1994 - galvanized iron - Utrecht
TRAJECT, werfkelders - with John Blake, Marinus Boezem, Toine Horvers, Frank Mandersloot, Giny Vos a.o.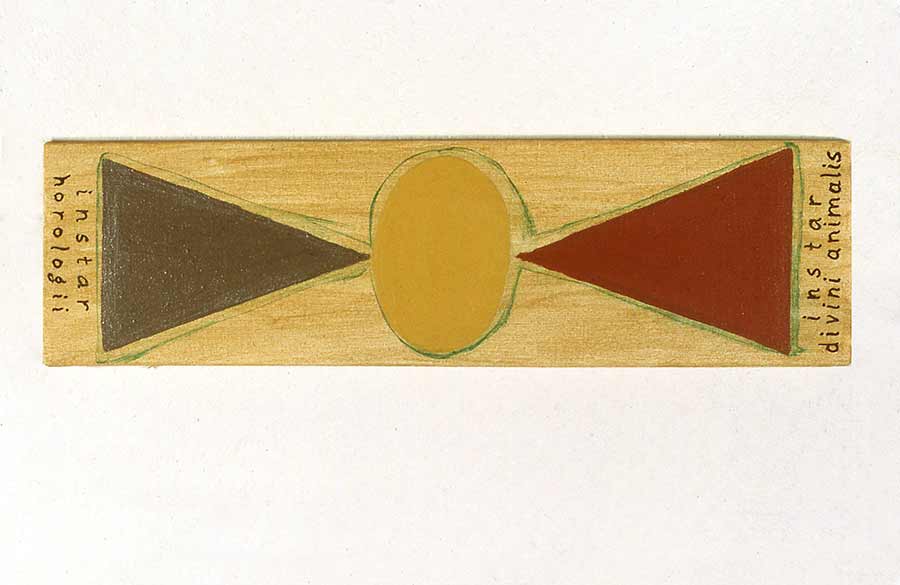 'Instar Horologii', 1988 - acrylic on canvas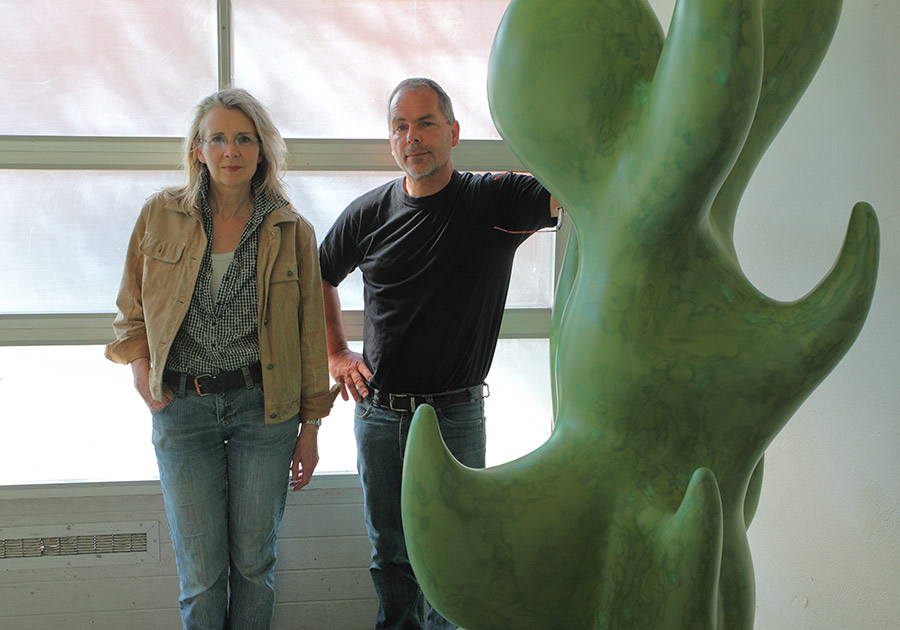 Tilly A. Buij & Gerard A. Groenewoud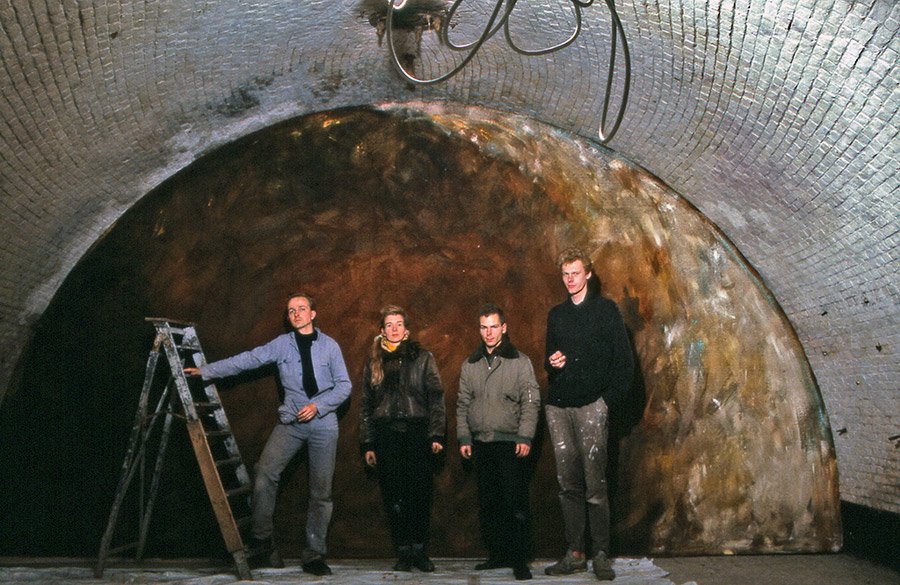 De Vier Evangelisten 1983-1994
Gertjan Slagter, Tilly Buij, Gerard Groenewoud, Rins Boschma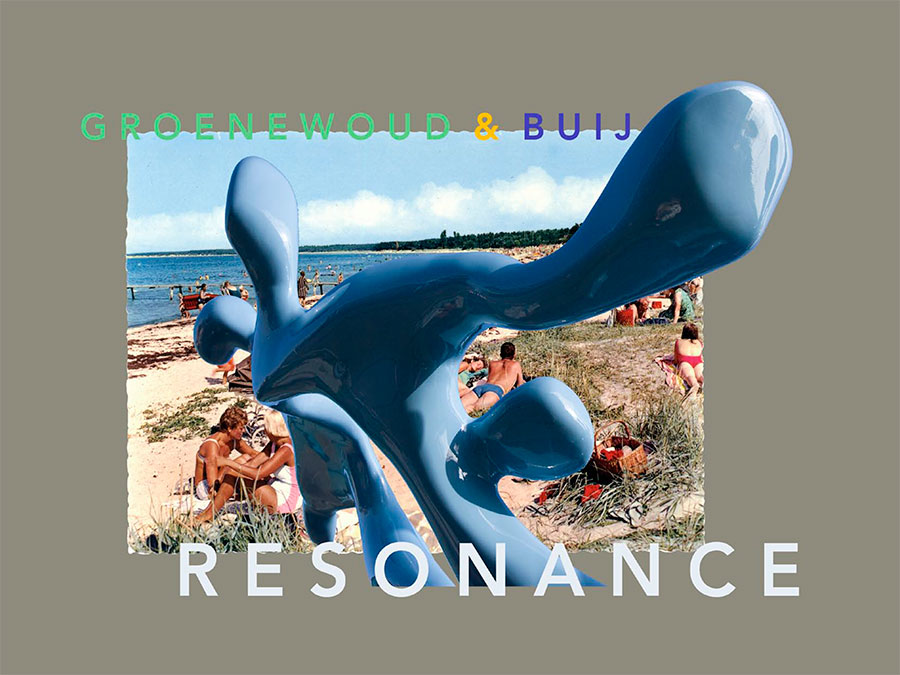 publicatie 'Resonance'